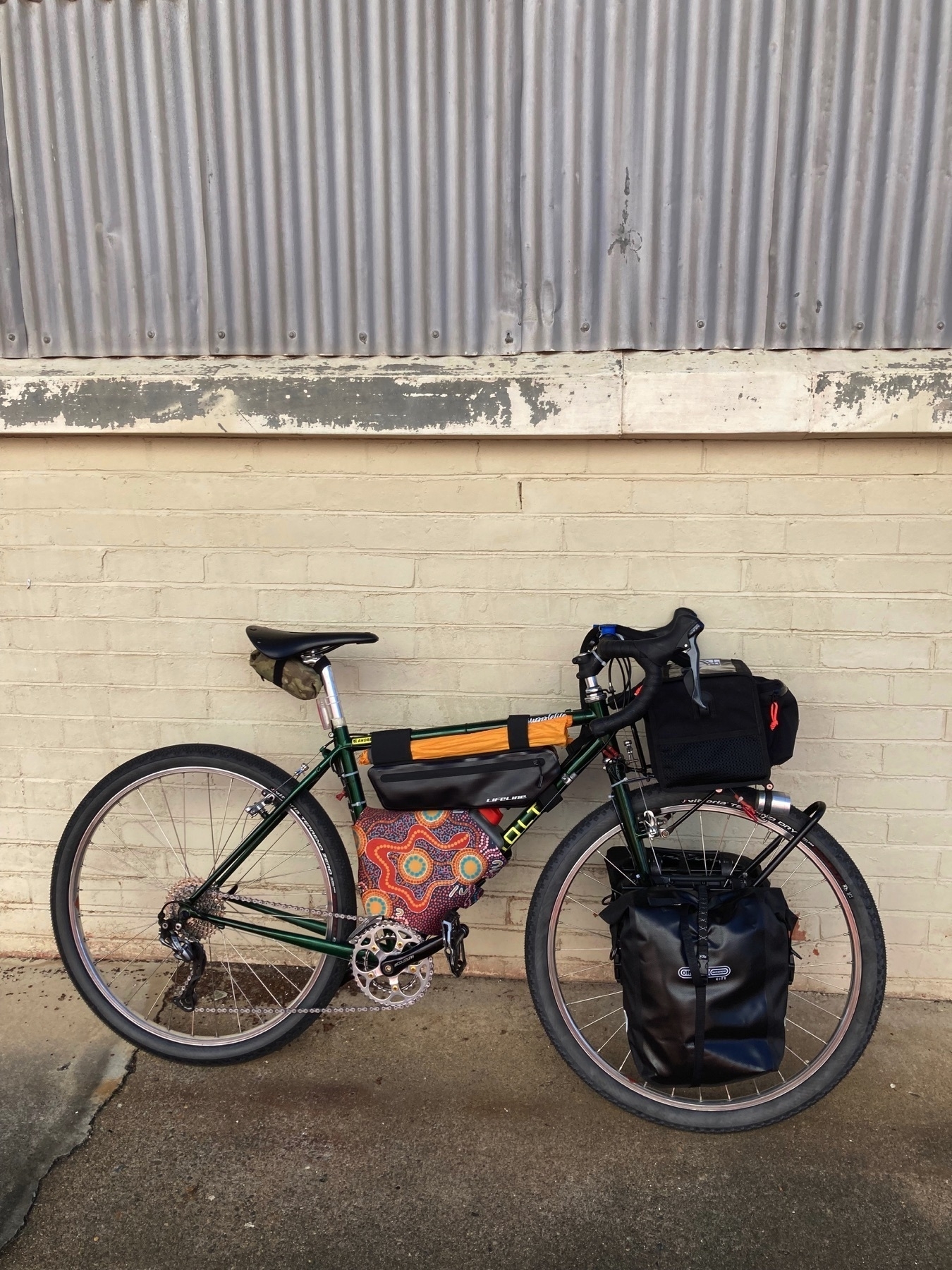 I recently posted some photos of my touring bike, all set up for the Great Queensland Rail Trail Adventure. And people asked questions, or expressed opinions, about the bike and the luggage setup.
So let's get nerdy. Here's a deep-ish dive into the shallow water of what I know about setting up your bike and equipment to go touring.
The bike now known as 'the Sholto' started out as a Shogun Alpine GT. I bought it in 1993, so the frame is now 28 years old.
Most of the components are much newer than that. The seatpost is the only other original component.
The Shogun Alpine GT was a touring bicycle, with a triple chainring at the front, and 700x35 tyres. Mine was a medium size, ordered from St Kilda Cycles, and put together for me by Andrew Pritchard at Flashing Pedals, Acacia Ridge.
After several other incarnations (flat-bar singlespeed hack bike, ghetto cyclocross/gravel grinder, mustache-bar rail-trail tourer), the bike was re-born as a 650B touring and commuting bike about three years ago, and re-named in honour of my late friend Sholto Douglas.
Here's the current spec, in more detail than anyone could ever want.
Frame: Shogun Templite 4130 Chromoly steel, made in Taiwan. Fork was custom made by Joe Cosgrove (of Frezoni fame), as part of the conversion to 650B. It is a "low-trail" design, to improve handling with a front load.
Wheels: Pacenti Brevet (front) and Grand Bois Papillon (rear) 650B rims. Front hub SP PV8 dynamo hub, rear hub Shimano Tiagra. 32 spokes front and rear. Tyres: Grand Bois Hetres, 42-584. NB: I had a Pacenti Brevet rear rim become unusably soft, so had to get the rear wheel relaced with the Grand Bois Papillon. Finding good quality reliable but lightweight 65) rim brake rims is no small matter. Kumo Cycles has the Papillon, which is now my go-to.
Cockpit: Shimano Sora 9-speed shifters, Ritchey Logic 46cm handlebars. Profile Design quill stem adapter, BBB stem.
Pedals: HT ANS10 Supreme flats (thanks Emma). Update: When I'm not touring, I've swapped out these pedals for MKS Sylvan Gorditos, which have a less aggressive pins and plates.
Drivetrain: Middleburn cranks, 42-30 chainrings (TA). 11-34 9 speed Shimano cassette, derailleurs are Shimano Alivio.
Brakes: Tektro CR720 cantilevers.
Saddle: Brooks C17 Cambium with cutout.
Luggage, water etc
My camping kit
Tent: 3F UL Lanshan Pro 2 Requires poles because it's intended for use by hikers who carry walking poles. Also, buy better/sturdier pegs than the standard ones.
Mattress: Sea to Summit Ultralight Insulated Sleeping Mat.
Sleep: Drop.com down quilt, Sea to Summit Thermolite Reactor sleeping bag liner, Zempire Chill Pill pillow
Stove: Jetboil (decided not to take it on this trip, we're camping in towns so there's always somewhere to eat).
Resmed Airmini travel CPAP machine. Has changed my camping experience remarkably! Previously I would wake multiple times a night, and often on a cold evening have to get up to relieve myself. Now I can sleep through the night, and I feel like I've found a kind of magic formula for comfy camping. A good night's sleep, who knew that would be helpful?