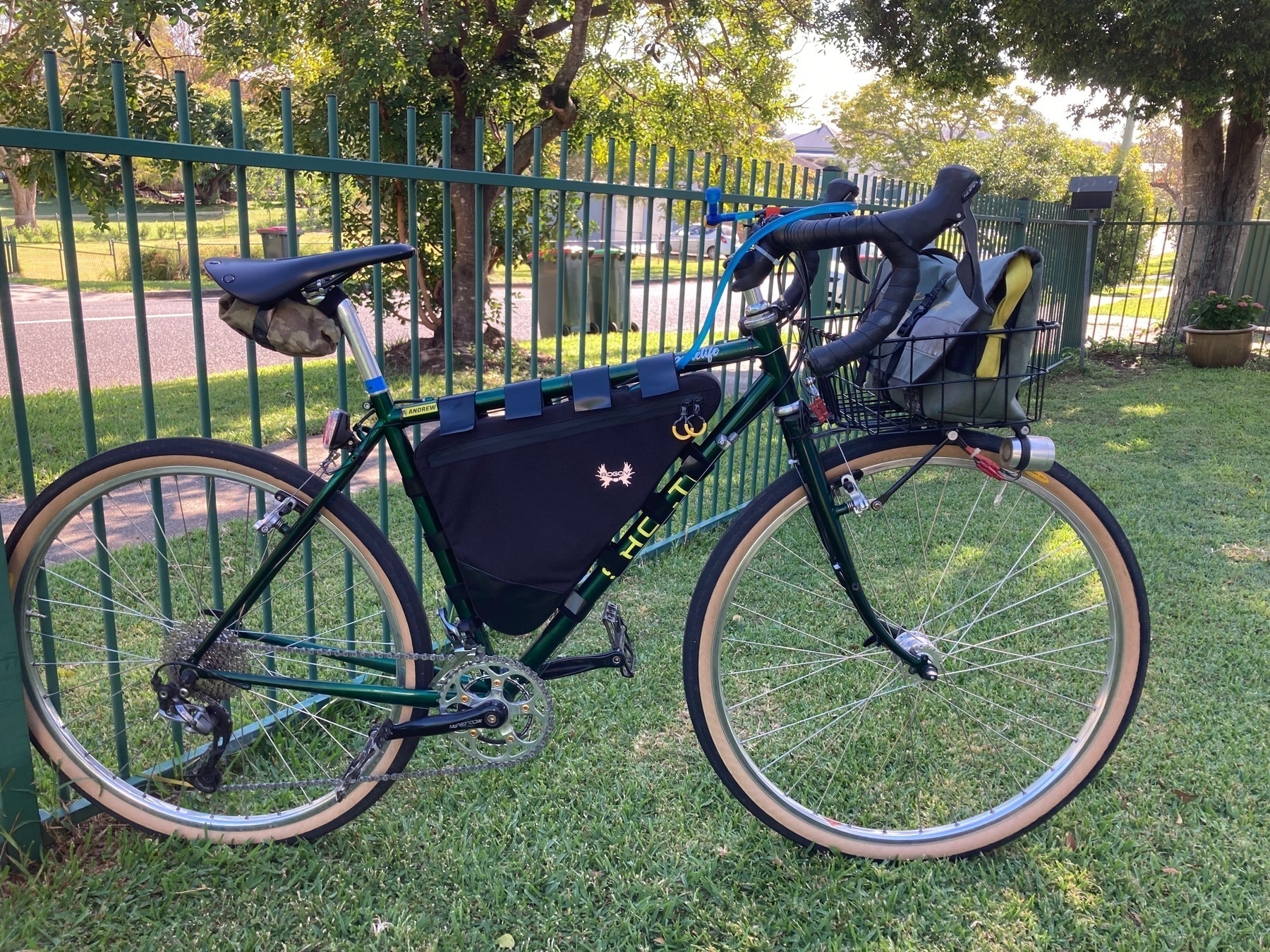 My touring / commuter bike (the Sholto) has had a long and varied career. And ever since I turned it into a 650B bike, it has firmed more and more as my favourite.
That is partly because of it's versatility. The Sholto is good for commuting to work, for riding overnight or weekend tours on a mixture of rail trail, back roads and gravel roads. It is not the lightest bike, but I am not the lightest rider, so I tend to forgive those sins.
It is also partly about our shared history, and the memories associated. I have owned this bike since I turned 30 in 1994. I went on my first bike tours with the Shogun (as it was then). It was also my first cyclocross bike, at which role it was also quite awesome.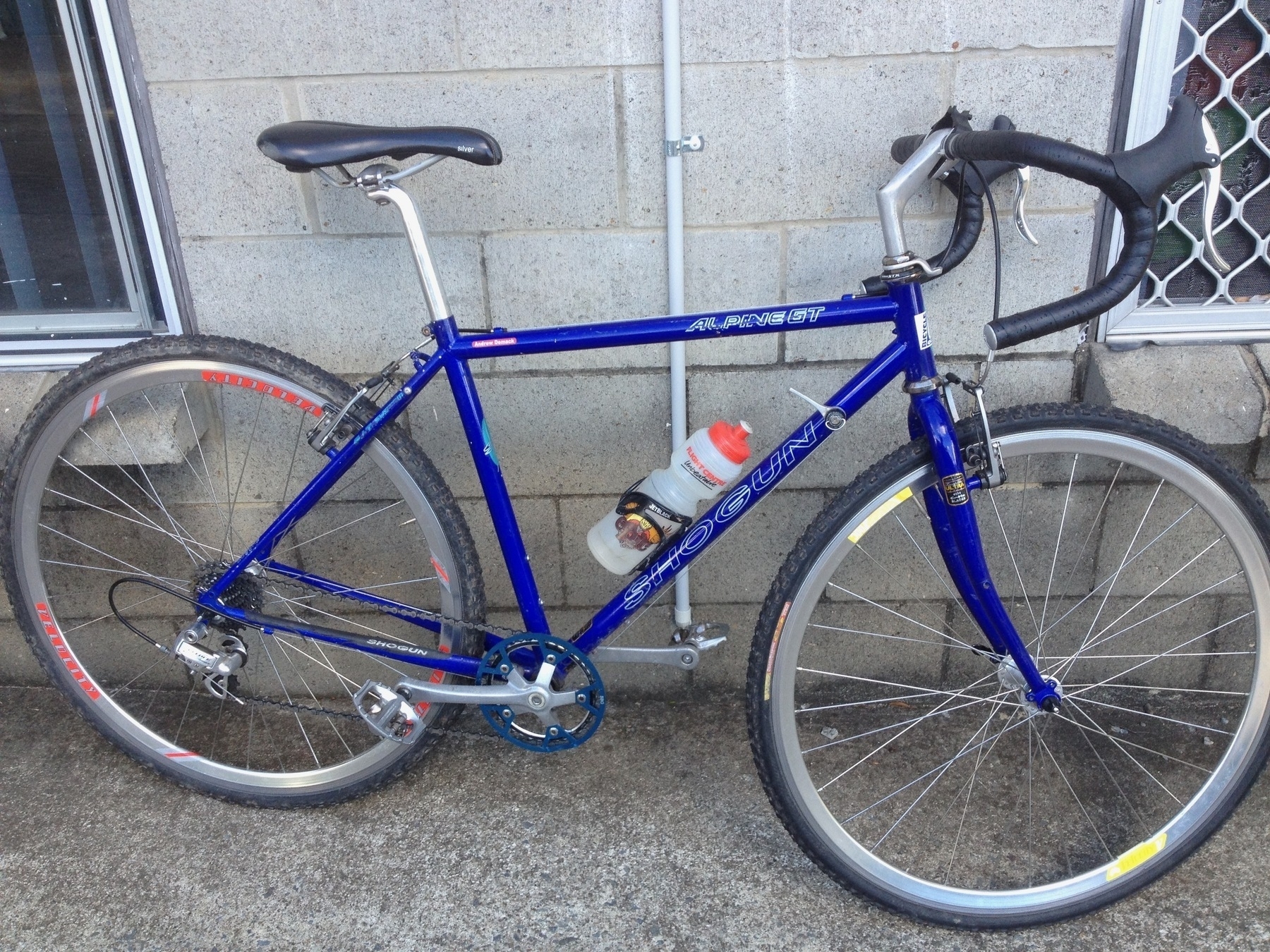 About the only thing I don't really like about the Sholto is the brakes (currently Tektro CR720 cantilevers). They're fine. They aren't great. They aren't terrible. Just OK.
I like everything else. I like my position on the bike, it's very relaxed, but it still feels like I can power along when required. I like the range of roads, trails, and surfaces that the Sholto is comfortable on. I like being able to put on the Vittoria Terreno tyres or the Teravail Washburns, when I want a wider tyre (almost 50mm) with plenty of grip for the dirt roads. I like going back to the Grand Bois Hetres 42 mm slicks for rolling along the commuting roads, or heading out to Cambooya on a weekend tour on mostly bitumen.
I like the myriad of options for being a contender in the #CarryShitOlympics. I have a cool basket for carrying all sorts of stuff, I have a deadly front rando bag, I have great front panniers, I have a small but surprisingly capacious saddle bag, I have the Cranktank for carrying 4 litres of water on long thirsty days and now I have a custom made in Ukraine frame bag, which lets me carry a 2 litre water bladder and plenty of other stuff in the main triangle of the bike.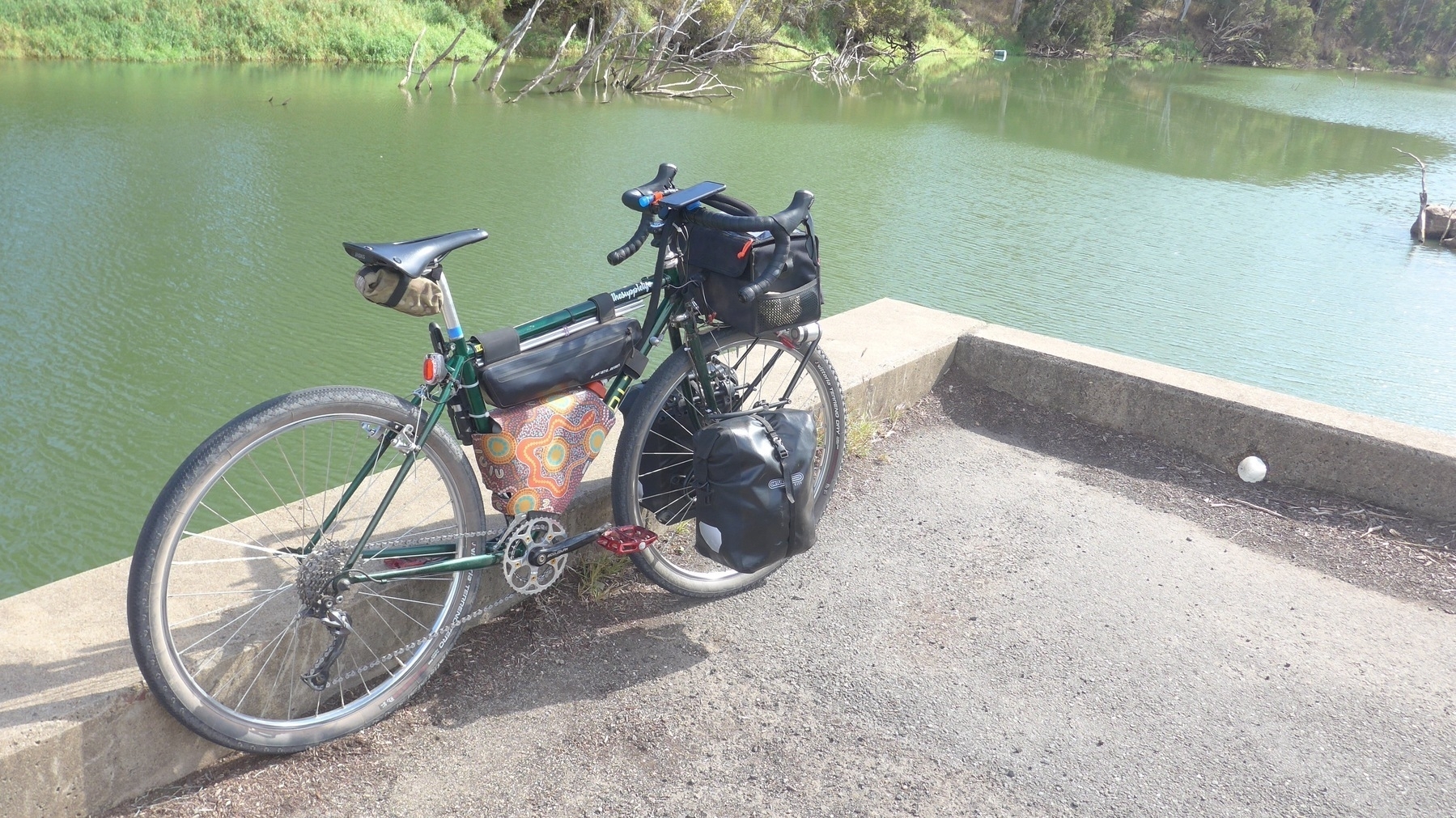 I like that the Sholto was a standout performer on a recent 9-day tour. The only moments of concerns I had for 9 days were a couple of punctures, and you're always going to get them from time to time. I've had very few flats in the last couple of years, so I was probably due.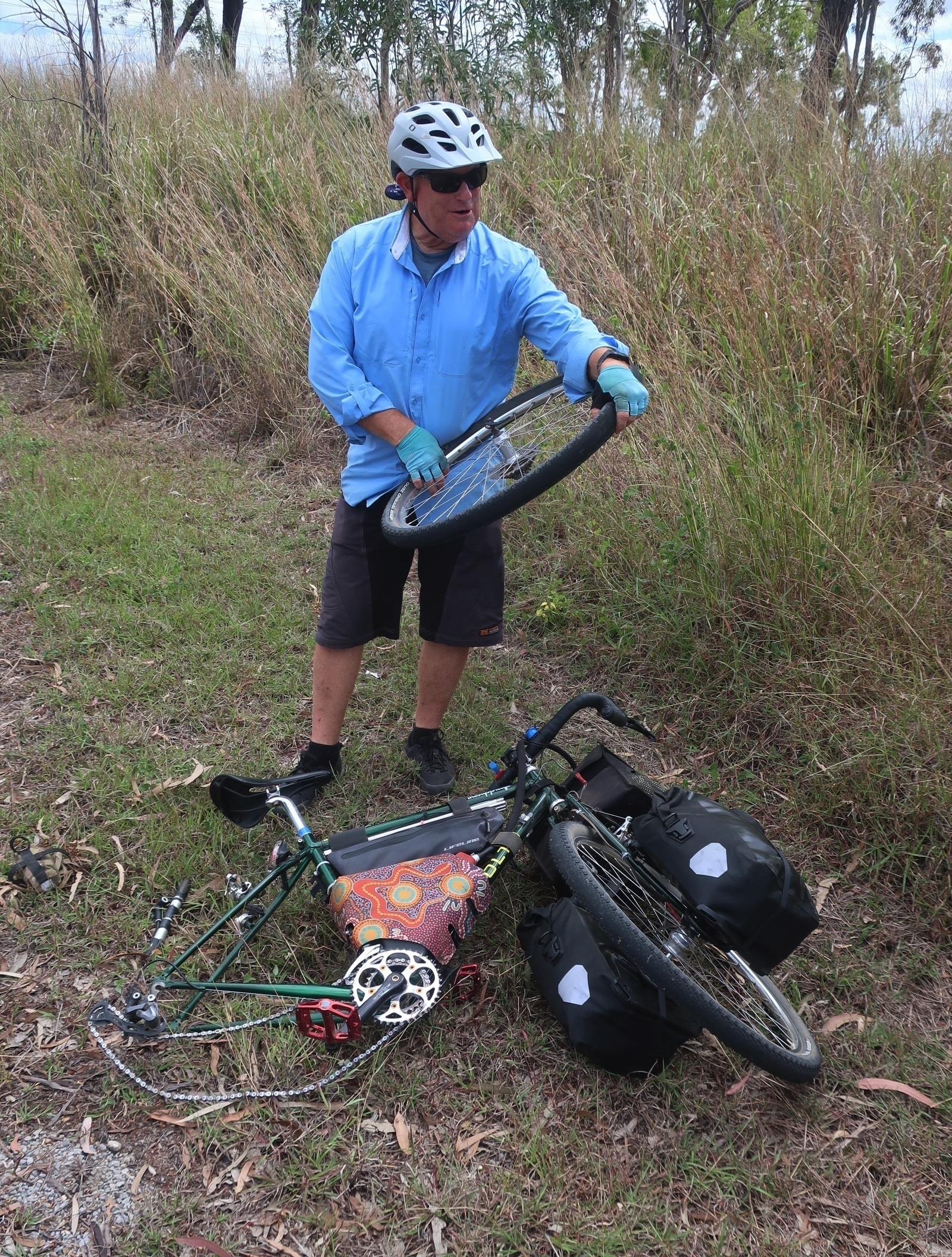 I also like the alignment of the Sholto with the "reduce / reuse / recycle" mantra. I am trying to convince myself that there's nothing that newer gravel/adventure bikes can do that the Sholto cannot also do.
And mostly I am convinced. New bikes are shinier and newer, but are they going to be better suited to my particular combination of commuting and touring? And would the new bike feeling last more than a week before it just felt like the bike you have had forever?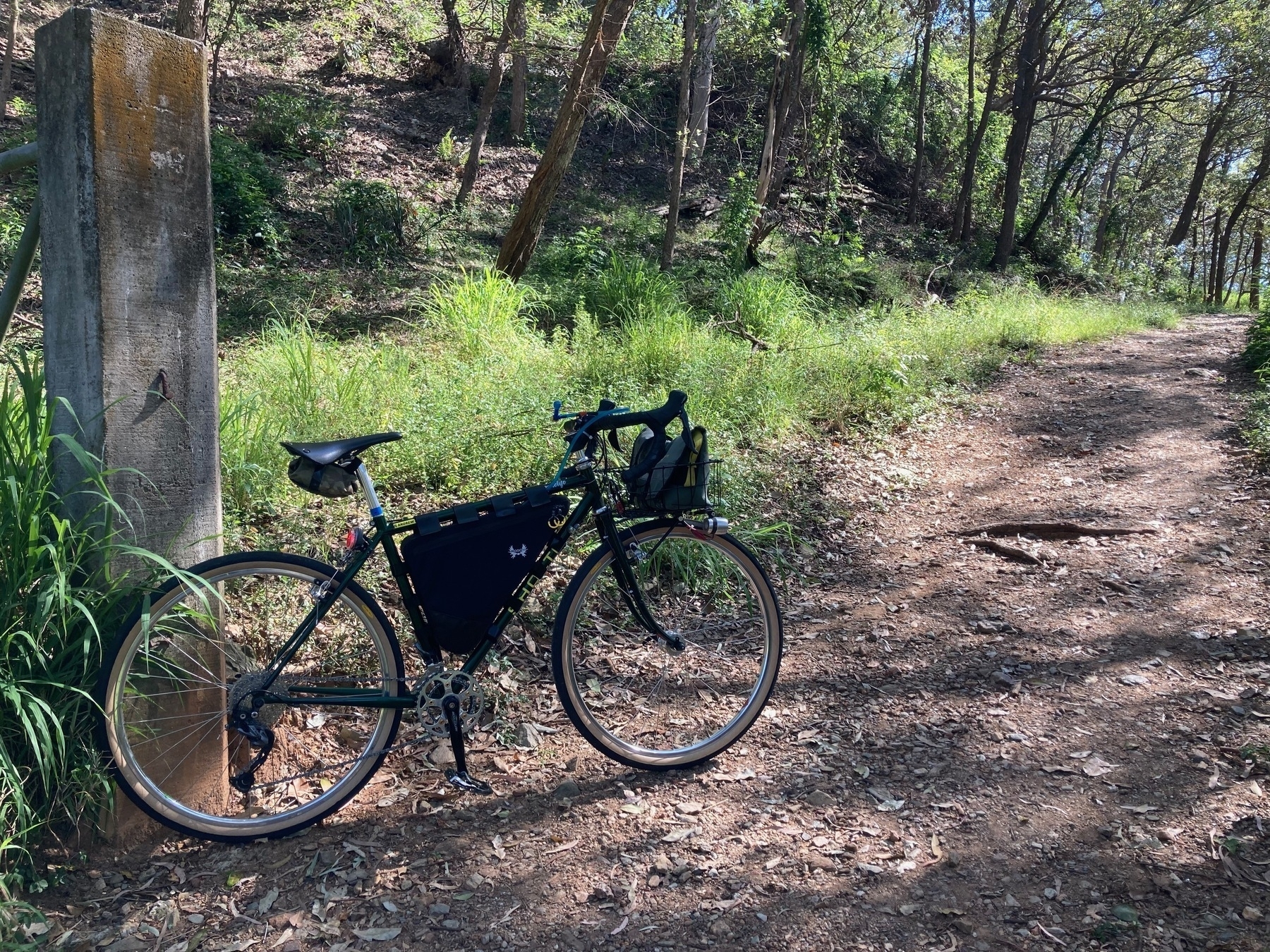 The Sholto bike's 30th birthday will be here before I know it, in 2024. And with very long timelines currently for getting new bike frames and parts, if I actually do think that it is time for Sholto to retire, what would replace it?
Here is a list of cool gravel/adventure bikes, mostly available as frames that I would build up with my selection of parts. They are all 650B disc brake / drop bar / gravel adventure / touring bikes. Strangely, three of them come from the UK. The first is from Braidwood in NSW.
These bikes are listed in descending order of price. Which of course means that the one I am really tempted by is the Fearless Warlock.
I am going to do a decision matrix with these four bikes to see how they stack up against the Sholto. But my sense of it is: I could spend $4000 on a new bike (that's my ballpark pricing on a built-up Fairlight Faran), and it would absolutely be better than the Sholto. But $4000 better? (Whatever that means). I suspect not.
I might change my mind tomorrow. The Sholto might break again. I don't know what the future holds.
But I do know that the current build of the Sholto brings me a lot of joy. And maybe when I fit the new Swiss Stop brake pads I have in the shed, the brakes will become awesome and the bike will be perfect.