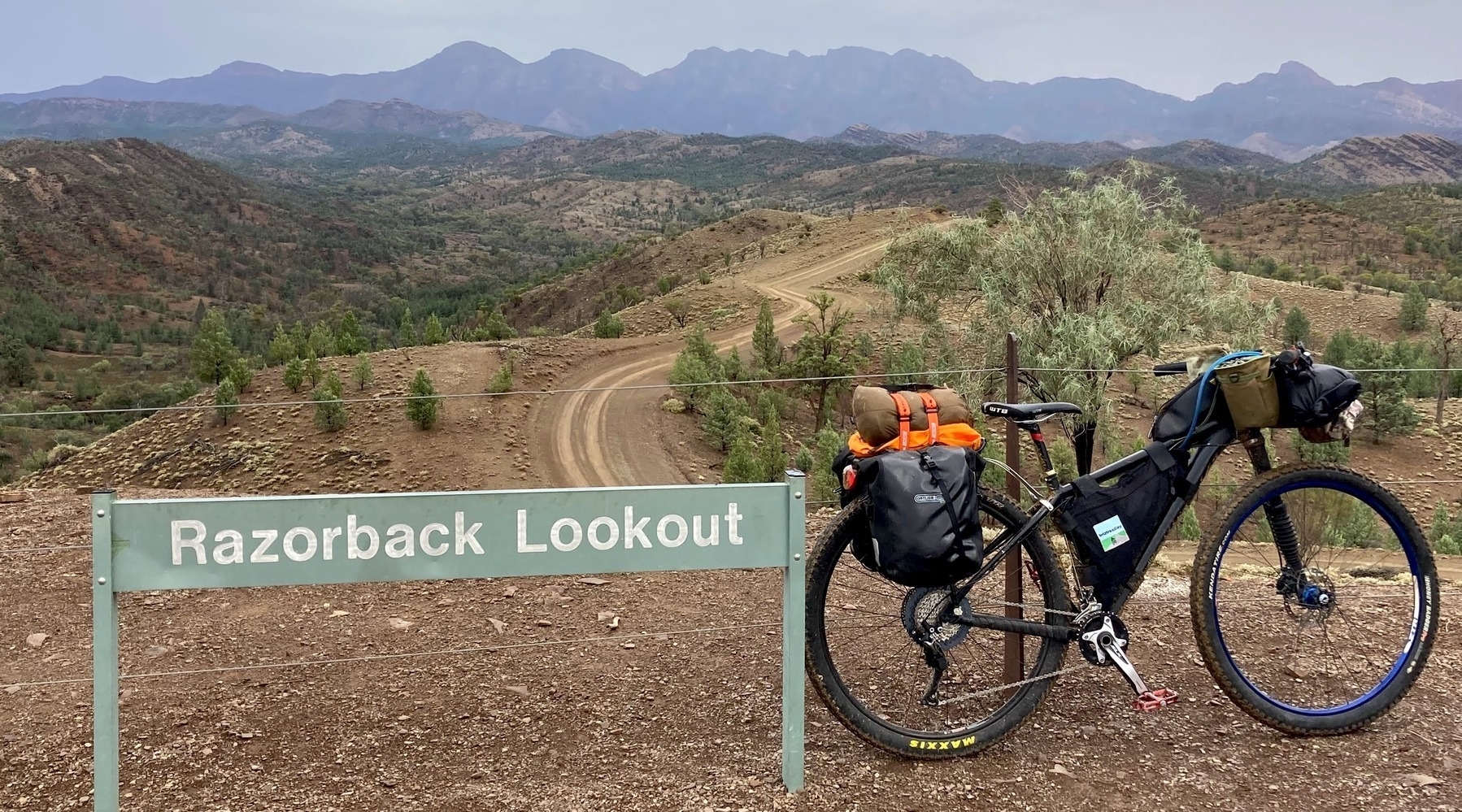 If I look at my stable of bikes, and how much each one gets used (available on Strava), you might get the feeling that my Carve 29er isn't one that I really like.
It languishes down in fourth place with 'only' 4000-ish km, trailing the Sholto bike, the Frezoni, and my cyclocross/gravel bike, the CAAD-X.
But the Carve 29er occupies a very special place in my memories. It's the bike on which I have bikepacking adventures.
Ten years ago when I started getting into this new style of cycle touring, it was only natural to fit some bags to my hardtail 29er and get rolling.
My Carve has an origin story that I'm going to suggest is unlike most other bikes, and it's going to sound weird when I tell it.
In 2011 I had bought a Cannondale RZ OneTwenty dual-suspension mountain bike. And I really enjoyed that bike, it was great fun on all the trails around Brisbane and SEQ. And the bestest best bit of that excellent bike was its Lefty fork.
The Lefty is a strange beast, and unless you have ridden a bike with a Lefty, I don't expect you to understand. But a well-tuned Lefty on a trail or XC-style mtb is a total joy. Super responsive, lightweight, laterally stiff, just a really cool thing to have on the front of your dually.
And one day I am idly being idle and I noticed a secondhand Lefty for sale on eBay. I put a bid on it, not really expecting that my offer would win the bid. Which it did. At this remove I don't remember what I paid for the Lefty, but I think less than $200. And those things were very spendy back in the day.
Ok, so I've got a Lefty.
And it sits in my bike shed, mocking me, for about six months.
Next thing my friend JD has a Specialized Carve 29er frame for sale. JD had bought the Carve as a complete bike from Epic Cycles only a few months before, but then had been seduced by a gorgeous Ritchey P29 steel frame in red, white and blue. So JD swapped all the components off the Carve onto his new Ritchey.
And the Carve frame in basic black was left behind. It's an aluminium 29er frame from 2011-12. The geometry of the time is very dated now (70 degree head angle anyone?) but it still works great on dirt back roads and most point-to-point style trails.
So I thought: that's a low cost way to get the Lefty onto a bike, and perhaps get into bikepacking. Even though there are easily foreseeable downsides to having a Lefty on a bikepacking steed.
I bought a Shimano SLX groupset (drivetrain, shifters and brakes), hunted around for bits and pieces, and snagged a pair of wheels from Aiden Lefman when I approached him for help in servicing and fitting the Lefty (Aido runs a mtb suspension specialist firm, Cyclinic).
And there it was: a matte black medium sized 29er hardtail, with out-of-place Cannondale Lefty fork.
I did a few micro-adventures on it, but its first starring role was in 2014 when I rode the Munda Biddi Trail.
And ever since then, every big adventure I've been on (except for one) has been on the Carve.
And as a hardtail mtb for having adventures on, it has been just about flawless.
Over time, the Lefty became slightly troublesome. Lefty forks have an issue known as 'bearing migration'.
When the bearings migrate on your Lefty, you can go from 110mm of travel to 50mm of travel in hardly any time. Or worse.
Many Lefty owners get used to fixing this issue while out on the trail. I never got used to fixing it all, regardless of on the trail or in my shed.
Before a bike packing trip I would take the Carve to my mechanic, and ensure (among other things) that the Lefty had full travel, and off I would go. Sometimes it would lose a little bit of travel over a couple of weeks, but it never became a major concern.
But when I took the Carve to Dave (my mechanic) on my return from the Mawson Trail, he called 'time' on the Lefty. Too much trouble with the bearing migration, and performance in absorbing bumps had also got worse over time.
"Just find a carbon fork for this bike, you only use it for bikepacking so it doesn't really need suspension. A carbon fork will make the bike feel lighter and more lively," Dave said.
I agreed. He was right.
Carbon forks for 29er mountain bikes are pretty easy to find, but also can be somewhat expensive. I'm pretty wary of over-capitalising any of my bikes, and this one in particular would not gain one dollar of resale value by being shod with a fancy Whisky or Salsa fork.
So after a cautious search on AliExpress, I purchased a Trifox brand carbon fork, and Dave installed it.
So far (several quite taxing day rides, and one overnighter along the BVRT and South Burnett back roads) so good. The bike does feel lighter, although I should qualify that statement cos it has not yet had a full camping load on board.
The Trifox fork didn't have adventure mounts, so thanks to BarYak for producing the Mule, a system for attaching mounting points. I've got the Blackburn Outpost cargo cages, and on a recent overnighter the BarYak - Blackburn combo worked well.
Over the years I have used a variety of bags on the Carve to carry the gear you need for travelling around by bike. I have setup routines for pub overnighters, for full-on two-week-long camping trips, and everything in-between. See the photo at the top of this post as one example.
My favourite bags for the Carve have been the two frame bags I've used.
My original frame bag was made for me by my friend Dean. We used two existing nylon bag, of the giveaway type. One side was a Brisbane City Council City Cycle bag, and the other was a Griffith Unversity bag. The resulting frame bag had a real 'rasta' flavour with green edging, yellow one side and red the other.
After a couple of years the CityCycle side gave way … it was made from a very cheap nylon. So I asked my friend Brad to make me another bag, this time from cordura, and I have been using that one ever since. It fits a water bladder with about 2.5 litres of water quite comfortably, along with a pump and a few tools.
The rest of the kit varies. I mostly use a rear rack with bags hanging off it, rather than a large seat bag, cos my short legs (I have Duck's Disease) don't give me all that much clearance from the seat down to the tyre. And upfront I often use a Azur handlebar roll that came my way to review for Australian MTB mag.
I like the way the Carve rides when loaded. Without a load it was a bit twitchy on singletrack in its Lefty days. These days it doesn't have a suspension fork, so the dampening effect on the handling of all the extra load won't be there in quite the same way.
The Carve is also I think the epitome of the idea that a bikepacking bike doesn't need to be flashy to be good. The Carve's aluminium frame was literally a castoff from a friend who didn't want it.
But in the intervening 10 years it has been a brilliant machine to own and ride. We're still on the original drivetrain (more or less), original brakes, original handlebar (a SQ Labs trekking bar). And with one tiny exception (when I buckled a rear wheel one day) the Carve has always got me where I wanted or need to go each day that I've set out on it.
So that's a pretty good endorsement. I'm hoping for another 10 years of bikepacking adventures on it.