Part 4 of 10
Previously: Day 2 Toogoolawah to Yarraman
Next: Day 4 Kingaroy to Proston
Links to data:
Distance: 52.9km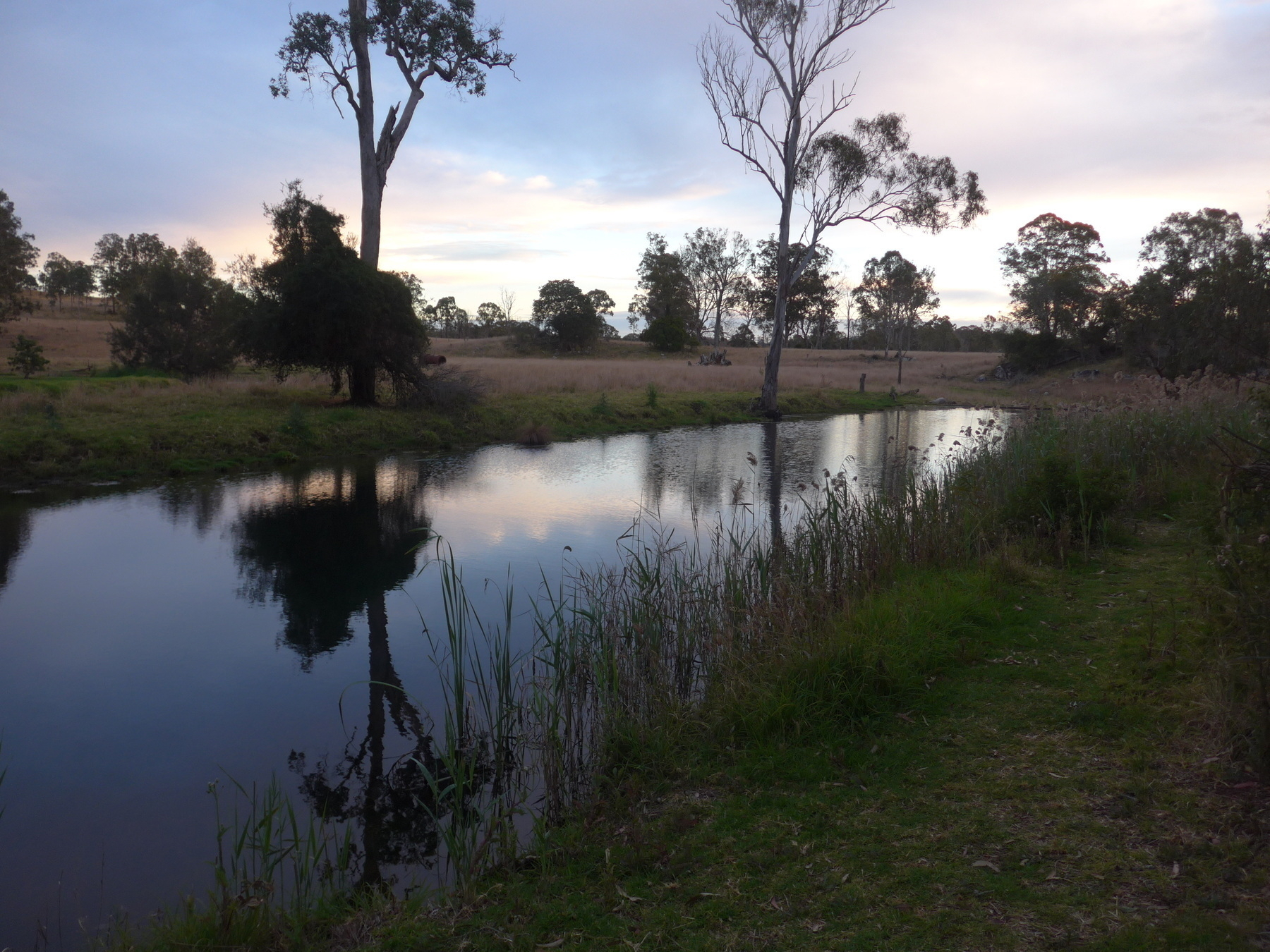 Peaceful morning scene at Yarraman Weir.
The route today is controversial. Not VERY controversial. Not "pineapple on pizza" levels of controversy. But there are many opinions about the "best" route from Yarraman to Kingaroy.
When the Kilkivan to Kingaroy Rail Trail opened in 2016, straightaway there were people who wanted to connect up the KKRT and the BVRT for a longer multi-day ride (I was one of those people).
Gillian Duncan and Mark Roberts who publish the wonderful book 'Where To Mountain Bike in South-East Queensland', also have a book on the two rail trails. They discuss the Link trail options on pages 18 and 19 of that book.
The real reason for the signed Link Trail is to make sure that touring riders go through Nanango. Retired dentist David Kenny mapped out the route in 2019 and was successful in getting a small grant from Heritage Bank to pay for the signs. David wanted to make sure that the route went through Nanango, as there were other routes being published that went via Tarong State Forest and bypassed Nanango altogether.
Well, I like Nanango as a town, so there was no way I was going to bypass it. And added to that was the fact that we weren't heading back into Yarraman for breakfast, as the Link Trail heads east past our overnight spot at Yarraman Weir before turning north on Din Din Road, a.k.a. the old stock route.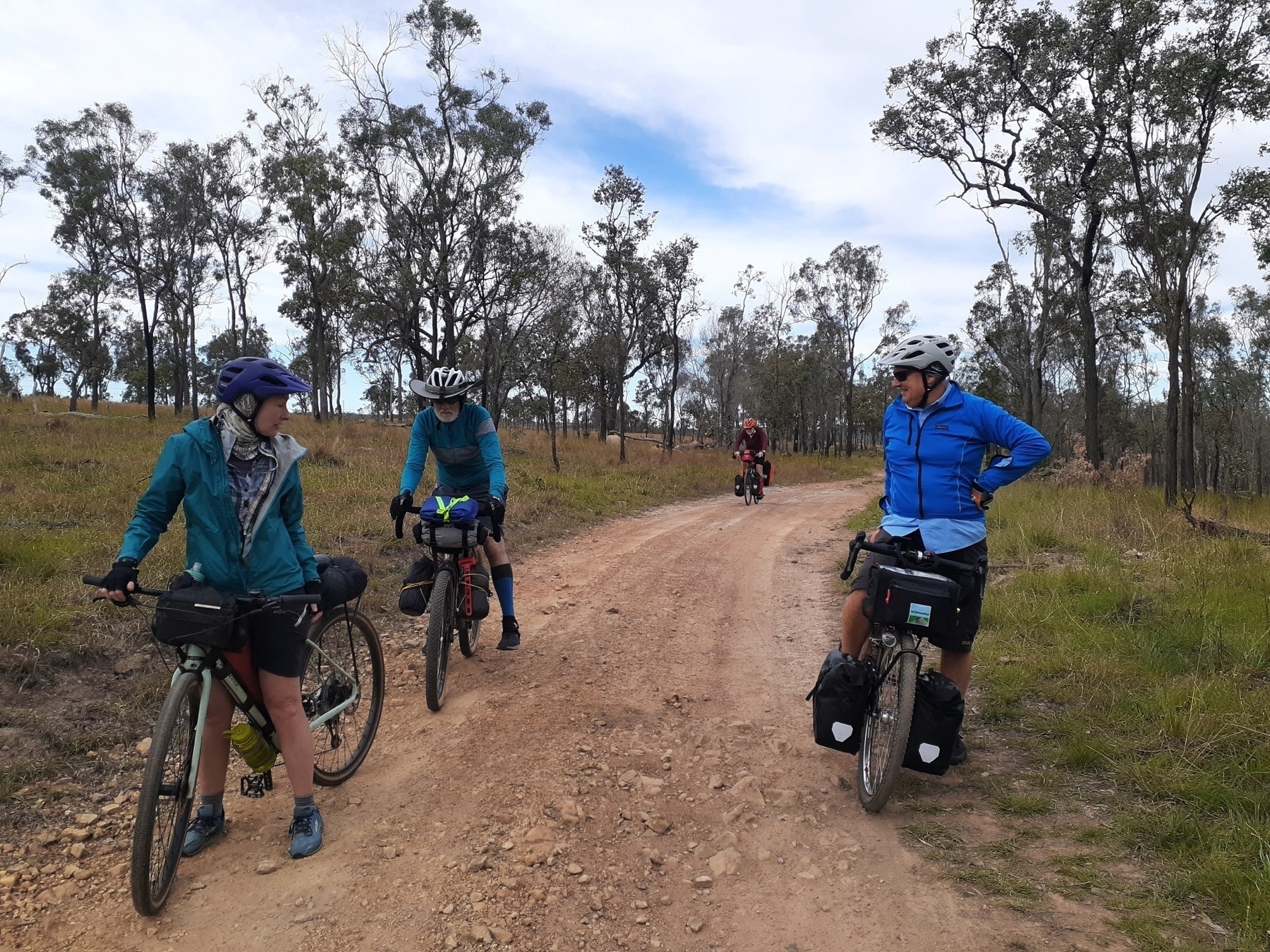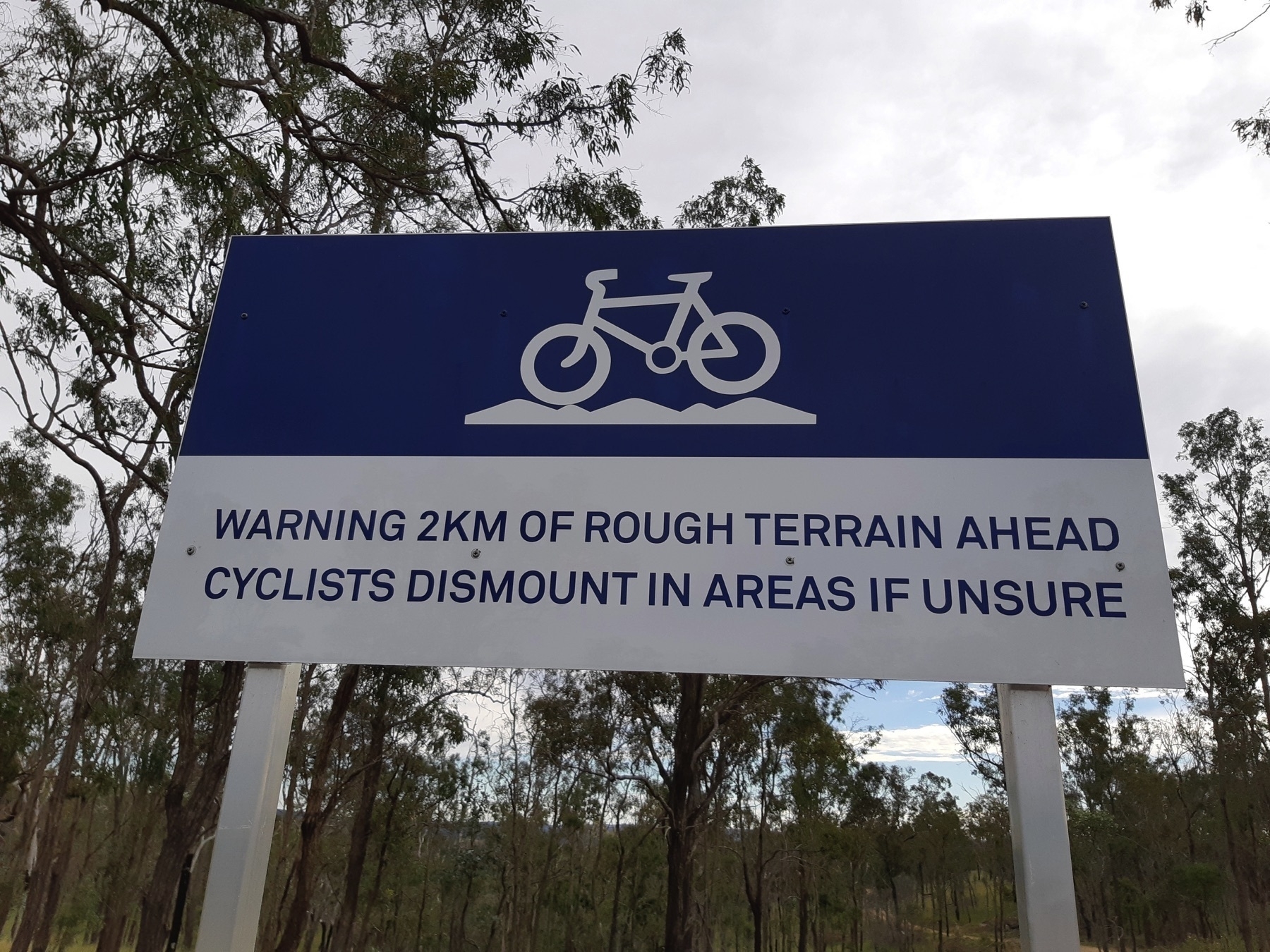 The stock route is pretty good fun. Refer to other notes about what sort of bike is best for this type of ride, but certainly those on bigger tyres had more fun on this section. The sign at either end of the rough part of the route gives adequate warning, and a gentle challenge ("cyclists dismount in areas if unsure"). I sure didn't dismount. And I didn't have to get off and push either.
We arrived in Nanango in time for morning tea or brunch, depending on your appetite status. We were fortunate enough to catch up with the aforementioned David Kenny, who while we sipped our coffees gave us an overview of the gravel riding routes around the area.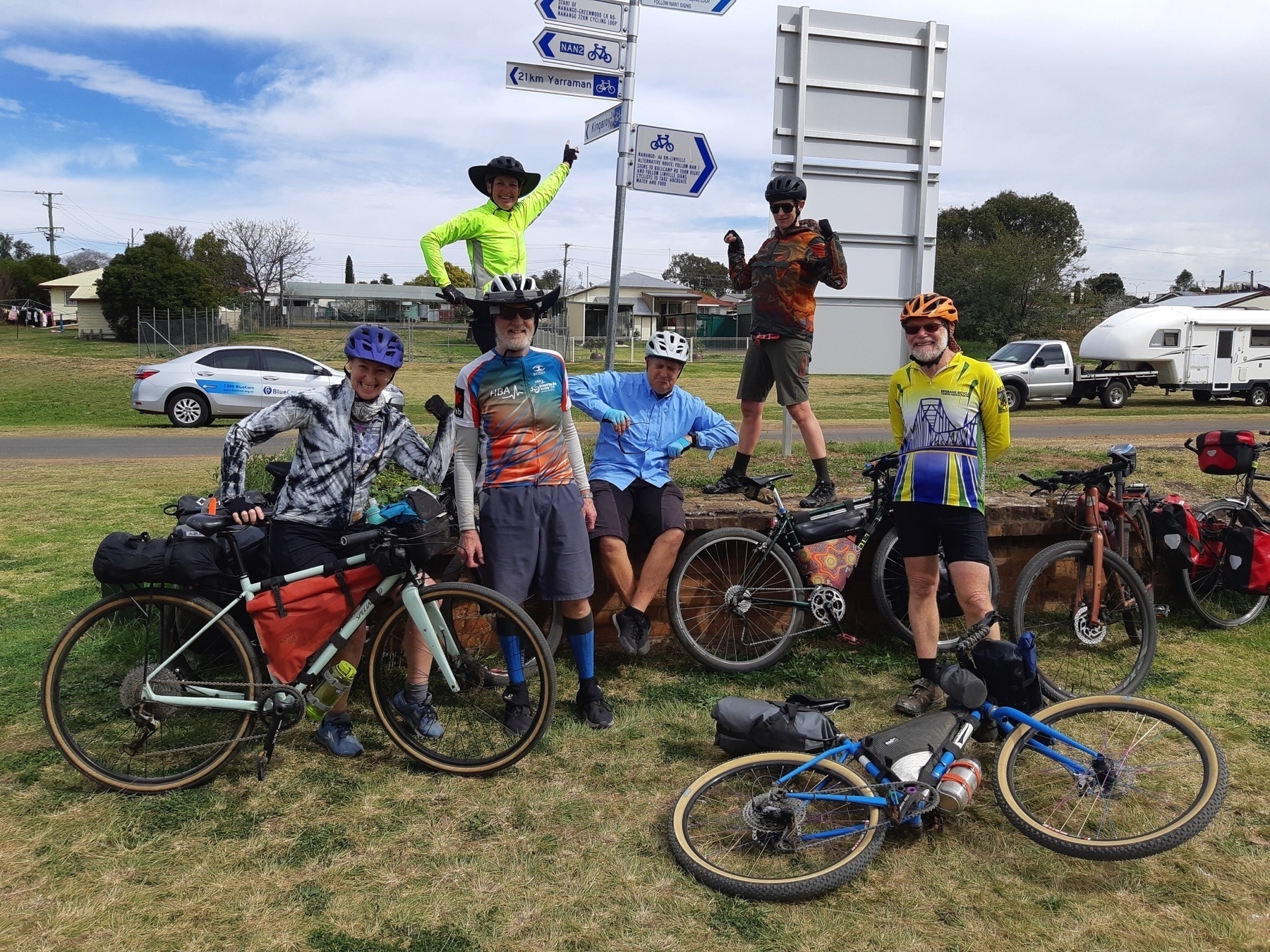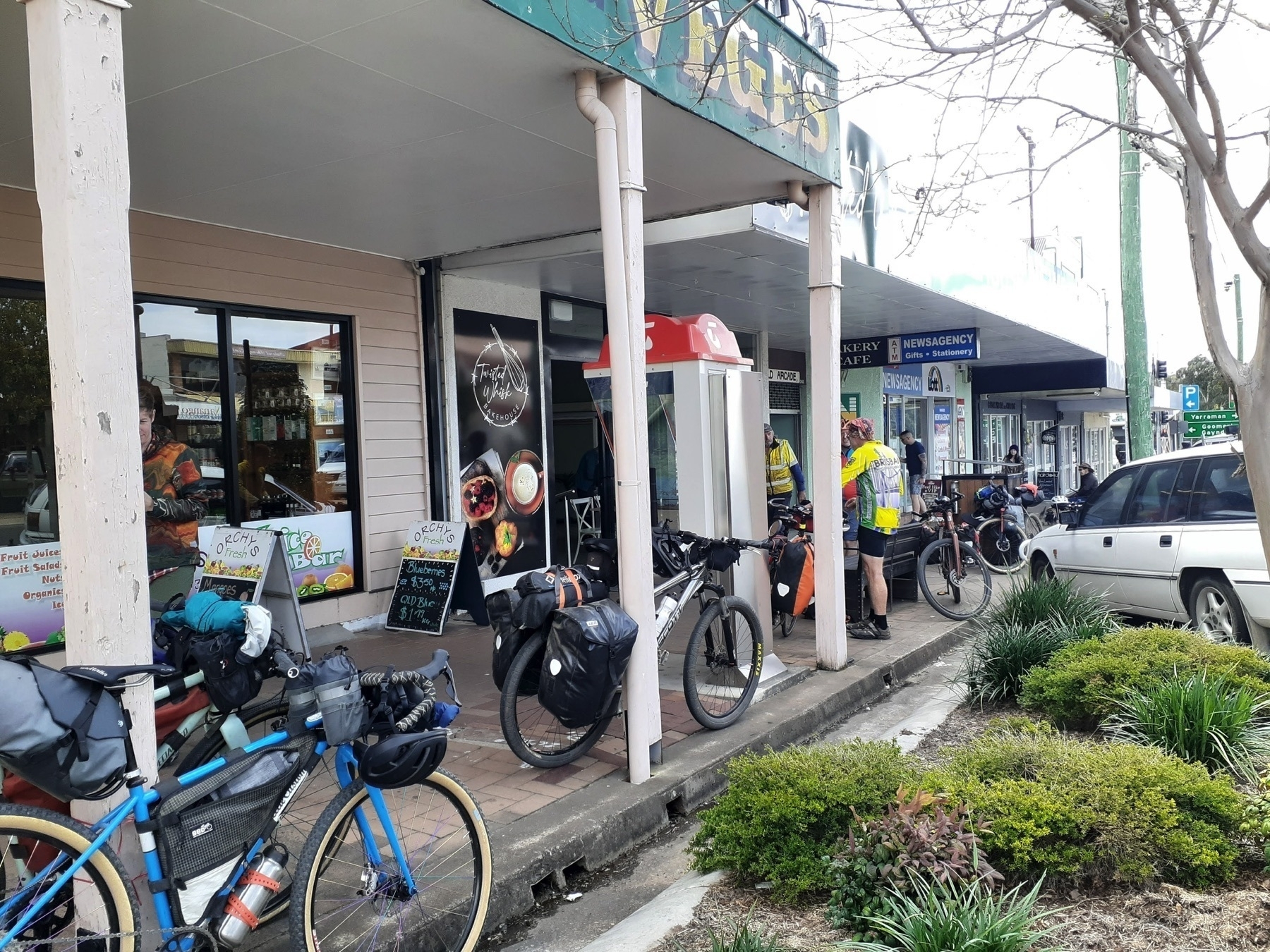 I will certainly be returning to Nanango, probably as part of a three-day ride including the NAN 1, 2 and 3 gravel loops, and a return to Linville via the upper reaches of the Brisbane River.
But on this occasion we headed north from Nanango for 5km on the Burnett Highway, before turning off on Booie Rd.
I had ridden the signed Link from Nanango to Kingaroy about two years previous, and wanted to try a different route. My memory of the Link was of big hill after big hill and I wondered if the alternate route I had mapped out might be flatter.
Reader, I was wrong. My route to the north of the D'Aguilar Highway was plenty hilly, made much worse by a navigational error I made soon after we turned onto Booie Rd. (We continued straight ahead on Smith Rd instead of staying on Booie Rd by turning right).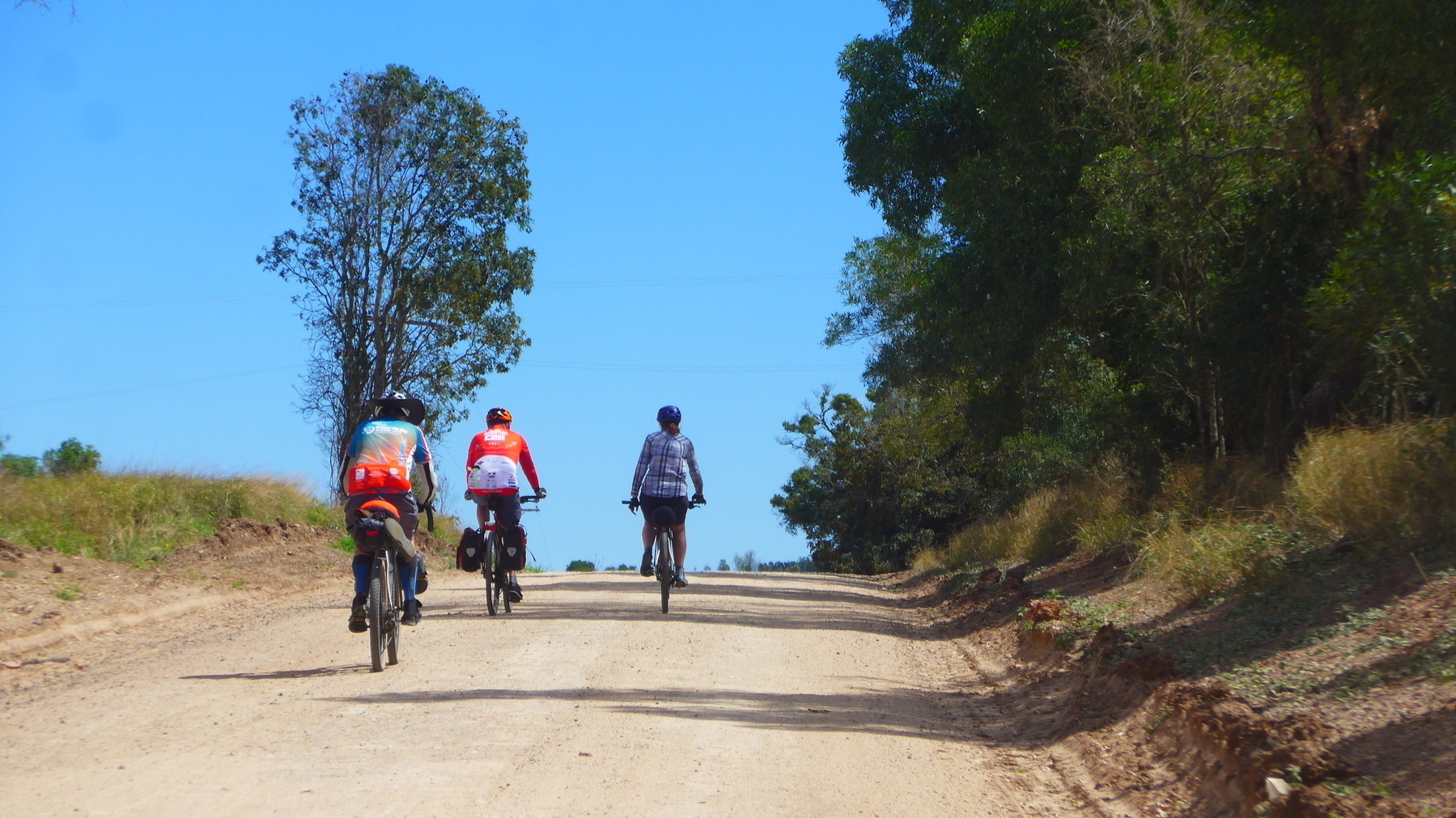 So if you compare and contrast the routes I have linked above, I would suggest that the RideWithGPS route is worth trying, and the Strava ride (which we did) is not. It did have a screaming smooth dirt road downhill on Reagon Rd which gave up 100 metres of hard-won elevation in about a minute and a half. But that's not good.
We made it to Kingaroy for a late-ish lunch at the Glendon Street Cafe, and rolled out to the Kingaroy Showgrounds, which is a good place to camp. We had called ahead to let them know we were a group of bike riders, so the spot we were allocated was away from the caravans and RVs, and close to our own amenities block, which also included a power box to charge our electronics.
We said goodbye to Emma and Fiona, who had booked the services of Out There Cycling to get back to where they had parked their van. David and Josie are doing a great job, it's the easiest way to organise point to point rides on the BVRT/KKRT.
Kingaroy is a large town with plenty of hotel and motel accommodation, even some AirBnBs. But if you are camping, the Showgrounds is a clear winner.
We dined at the Kingaroy RSL, where the sticky date pudding was a veritable island in a sea of butterscotch sauce. What more could you ask?
Kingaroy is well known for cool nights and mornings … it is nearly the same elevation as Yarraman and Blackbutt, about 450 metres above sea level. One of our group, who found herself a little under-insulated at Yarraman, had no trouble finding some extra warmth in the shops available at Kingaroy.