Part 6 of 10
Previous: Day 4 Kingaroy to Proston
Next Day 6 Gayndah to Eidsvold
Links
Distance 75.9
If Day 5 was transitional from rail trails into the unknown, Day 6 is totally off-piste.
When the idea for the Great Queensland Rail Trail Adventure started forming in my head around June 2020, the biggest question was: "What is the best route to link the KKRT and the BBIRT?"
I asked Mike Goebel (the co-ordinator for the Gayndah to Mundubbera section of BBIRT) what he thought. I had a look at maps. I wondered if the spur line from Murgon to Hivesville and Proston would ever become a rail trail (at present this seems only a distant possibility). Some further investigation made it clear to me that Proston was a much better overnight prospect than Hivesville. This was borne out in real life.
But the big unknown was the ride from Proston to Gayndah. 76 km, most of it on dirt road, with no towns, no services, no toilets, not water, not even a picnic shelter on the side of the road.
I was concerned enough about the Proston to Gayndah ride that I found a way of carrying 4 litres of water on my bike. Even in September you can get very hot days anywhere in Queensland. I had a bad experience once running out of water while bikepacking from Imbil to Jimna on a sweltering day in mid-October. Not keen to repeat that experience.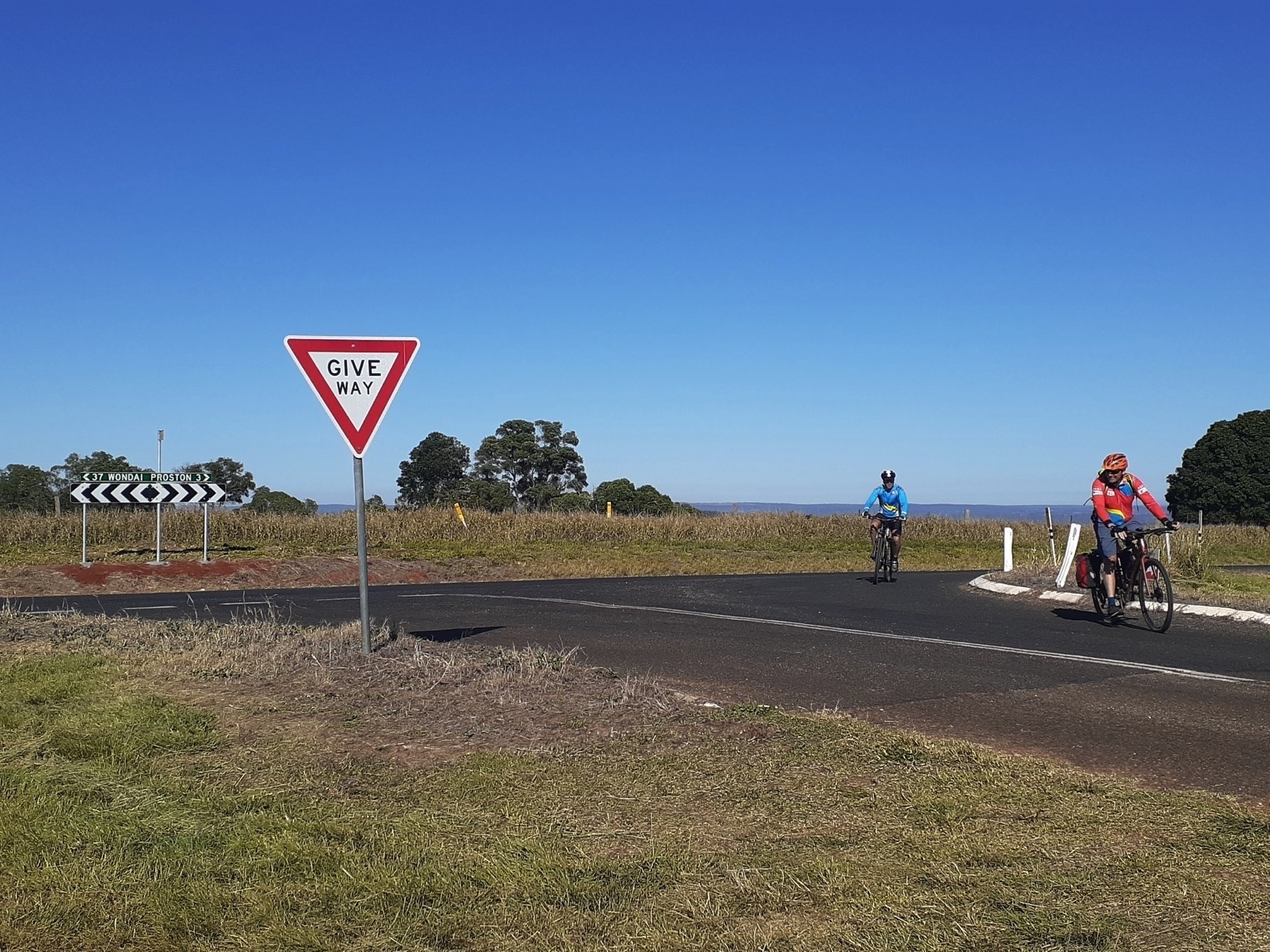 So today's ride was a little leap into the unknown. But fortunately we also had a local to ride with us. Peter, a BQ member who lives on a property just out of Gayndah, arranged for a friend to drop him off in Proston so he could ride with us.
We stocked up at the Proston IGA with food and water and set off.
The ride started with a testing 3km climb on the bitumen road back towards Hivesville. We turned onto Proston-Abbeywood Rd which (nice surprise) was sealed for another 7km.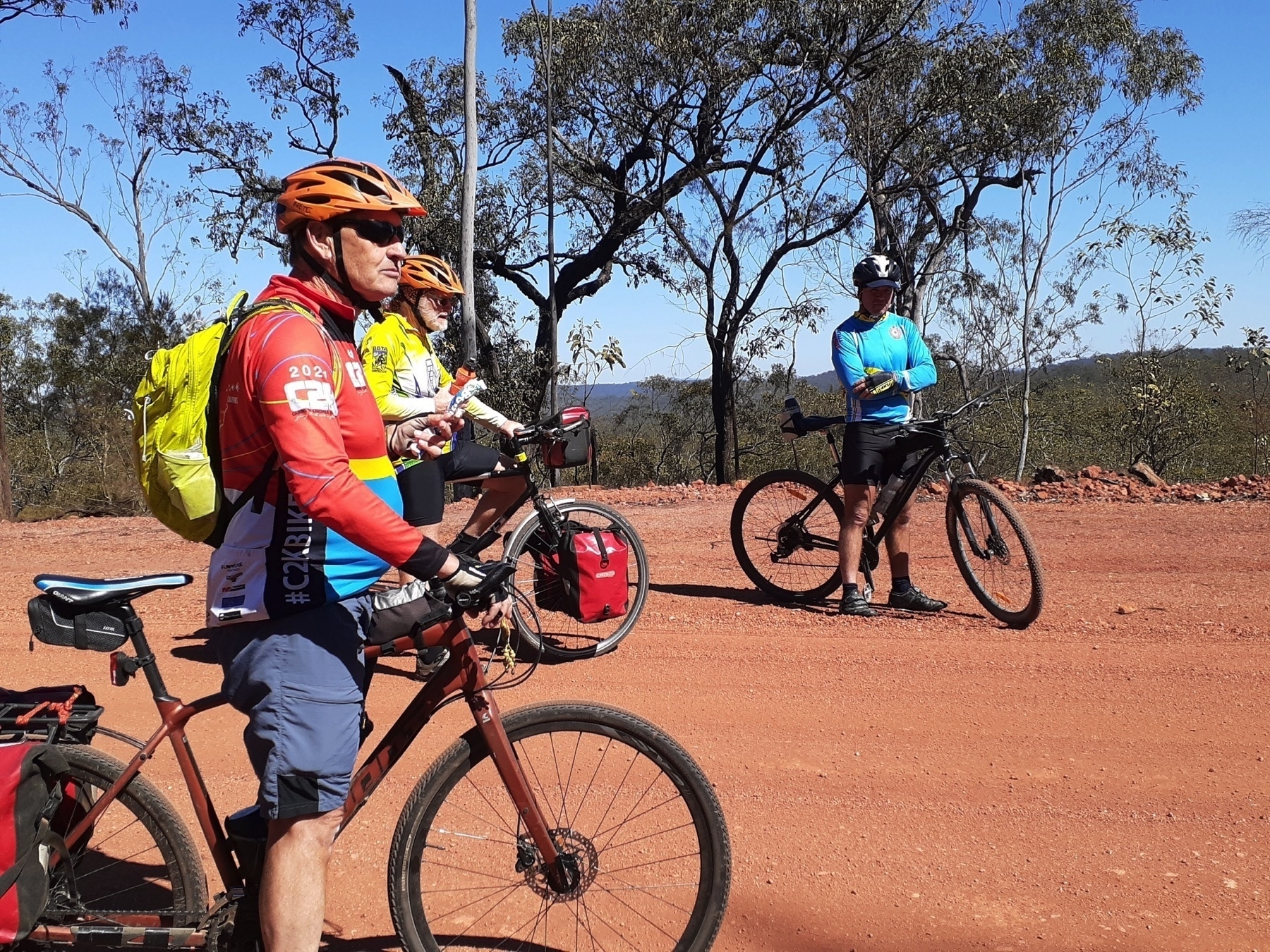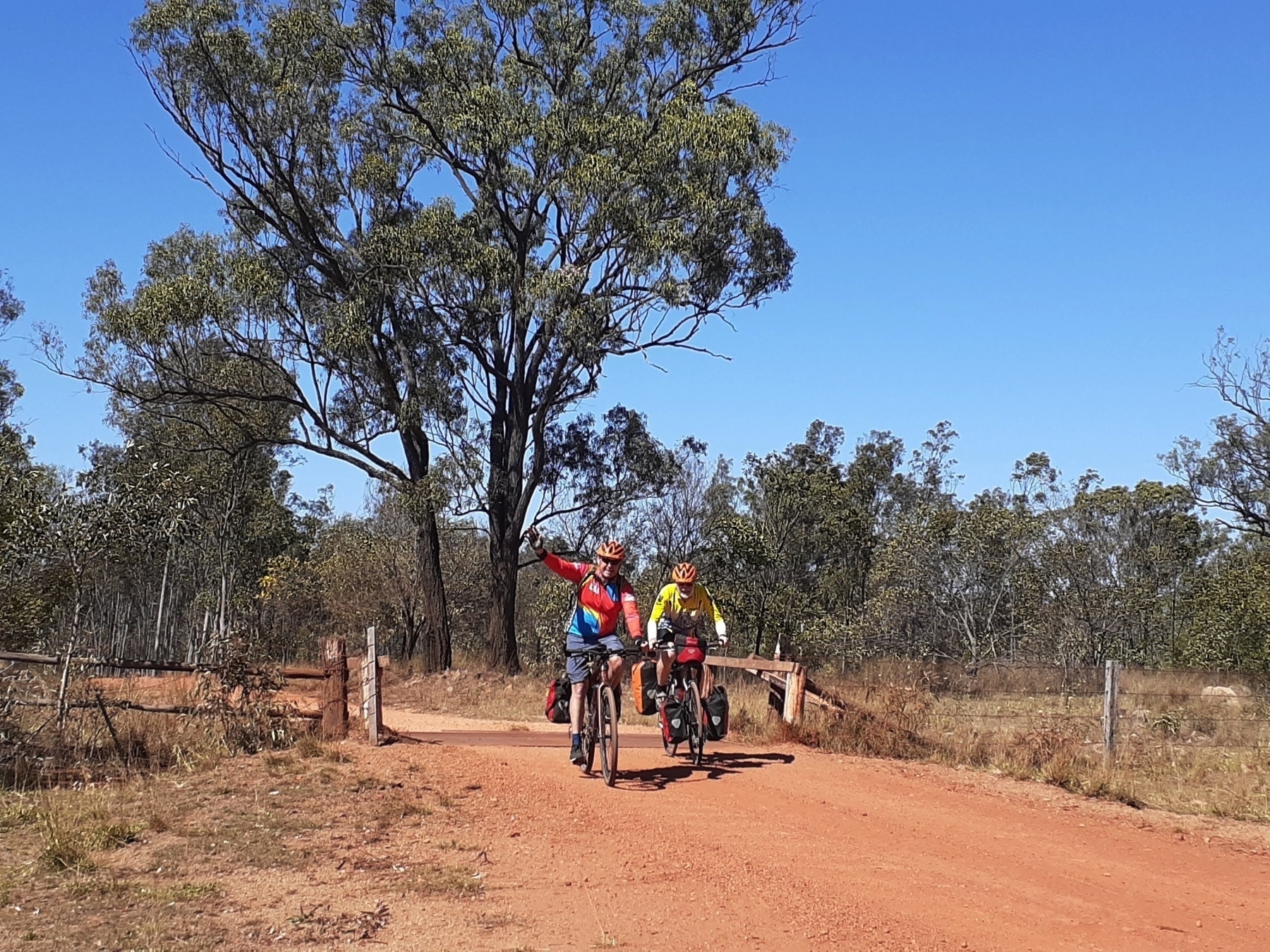 And although after that the surface was back to gravel, it was a well maintained dirt road. And gravity was in our favour. The climb out of Proston had taken us to 500 m above sea level, and we were aiming for Gayndah, 110 metres above sea level. So more down than up is always a good day, provided there aren't too many lumps and bumps along the way.
We rolled along merrily until our next nice surprise: the appearance of Mike Goebel, our Gayndah contact, in his rail-trail-supporting station wagon. Mike always comes bearing the local produce, so it was mandarins for morning tea.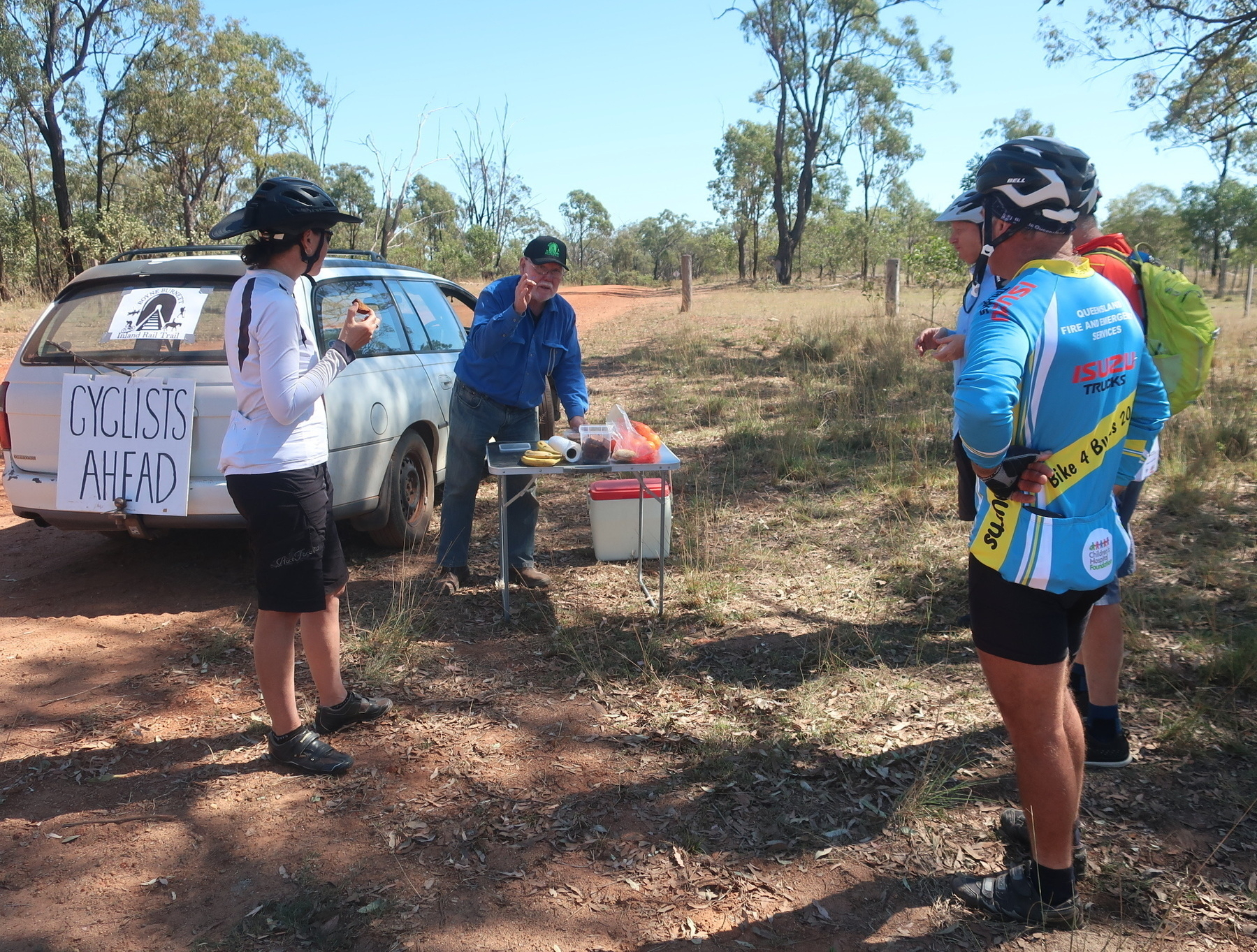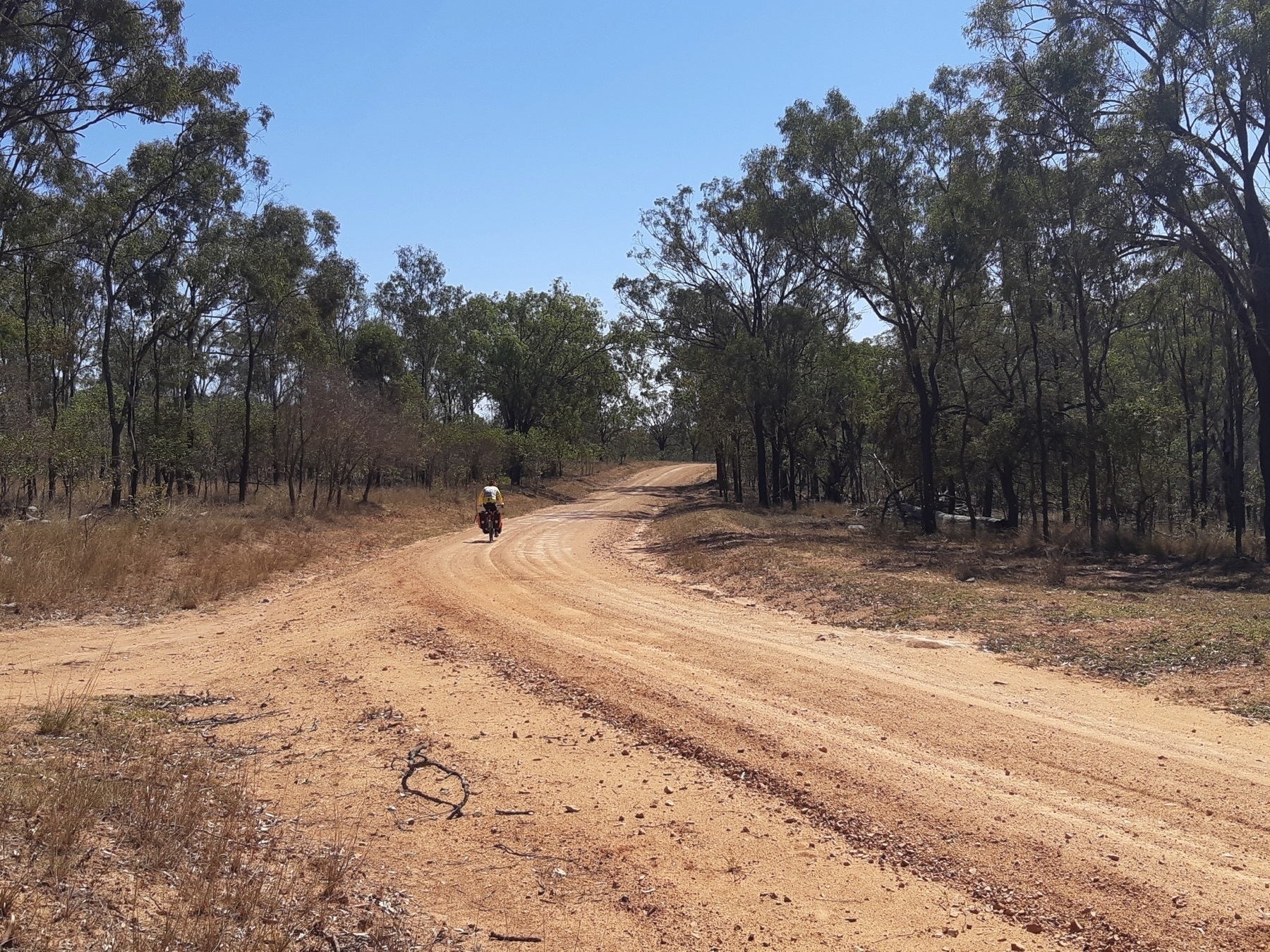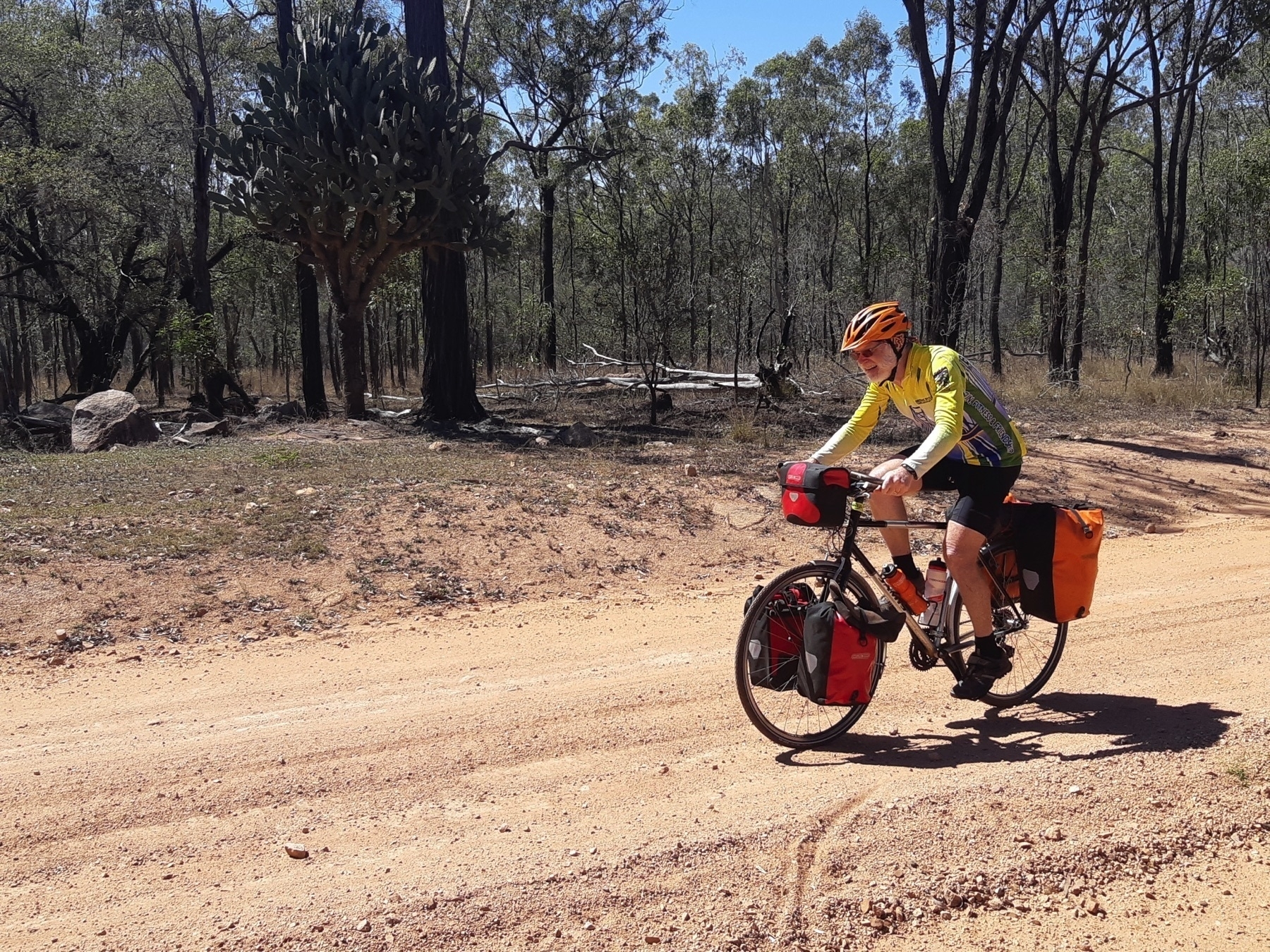 We stopped at creekside locations for food and rest breaks, but really this day had no major dramas. It's not a very easy day on the bike, because 50 km of unpaved road is never that easy. But it was no harder than other days on this route, and scenic in forestry and cattle grazing kind of way.
There are a couple of gradual climbs on the way into Gayndah, which we negotiated by steady pedalling, and we arrived in the early afternoon.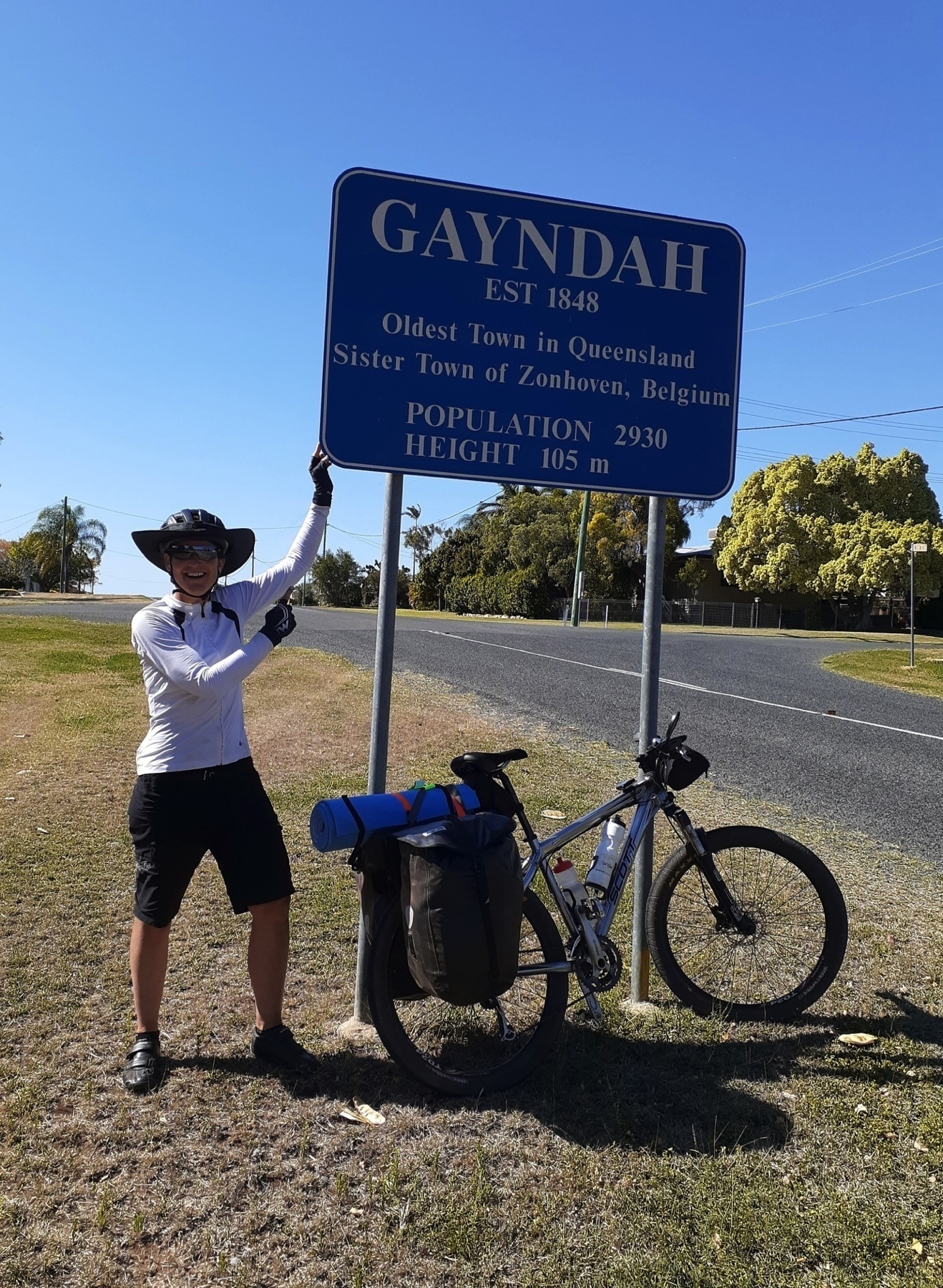 There are pubs and motels and caravan parks in Gayndah, but Mike Goebel is a very hospitable man, and most of our group accepted his offer of camping at 'Cafe Michel' (his house).
Mike's connections with the Gayndah community also came for the fore, as the Councillor for Gayndah division of the North Burnett Regional Council appeared at Mike's place to whisk us away for a quick tour of the sights.
The most impressive of these is the view over the Burnett River from the top of Mt Gayndah. I would not want to ride my bike up the access road to that lookout, but the view is awesome. Probably the best way for bike tourists to see this is to ingratiate yourself with Cr Dael Giddins, who is a lovely outgoing person who is always keen to show off the town.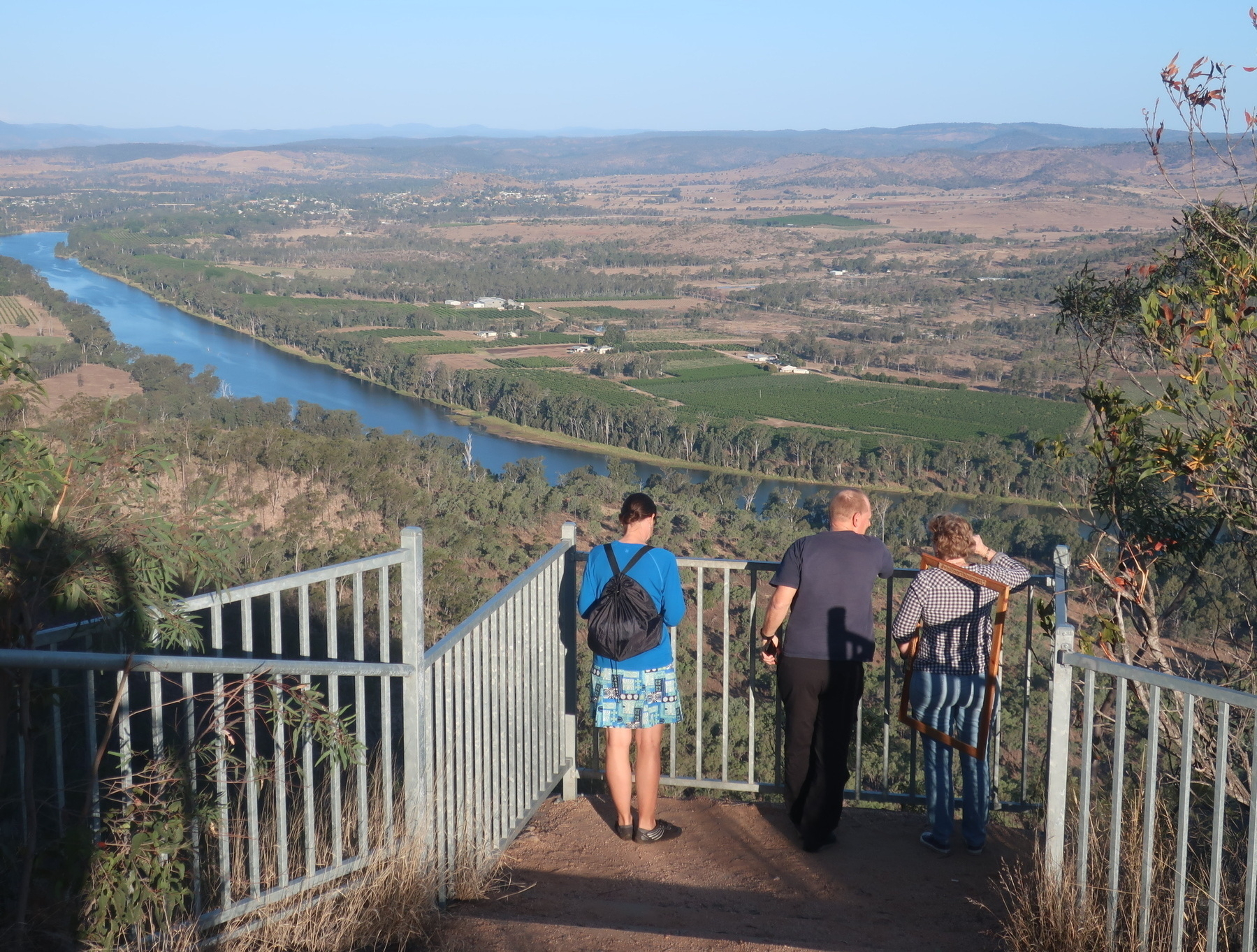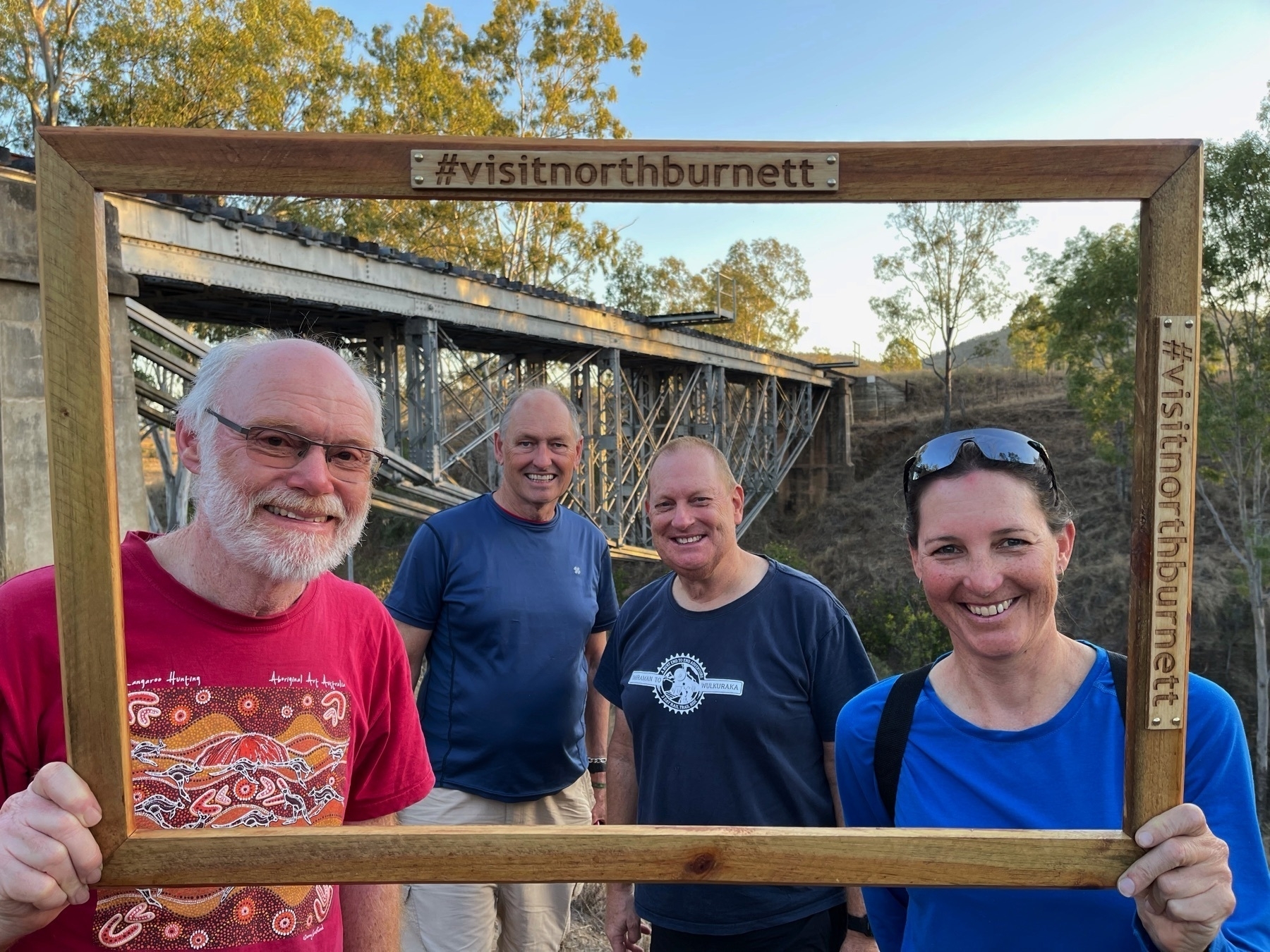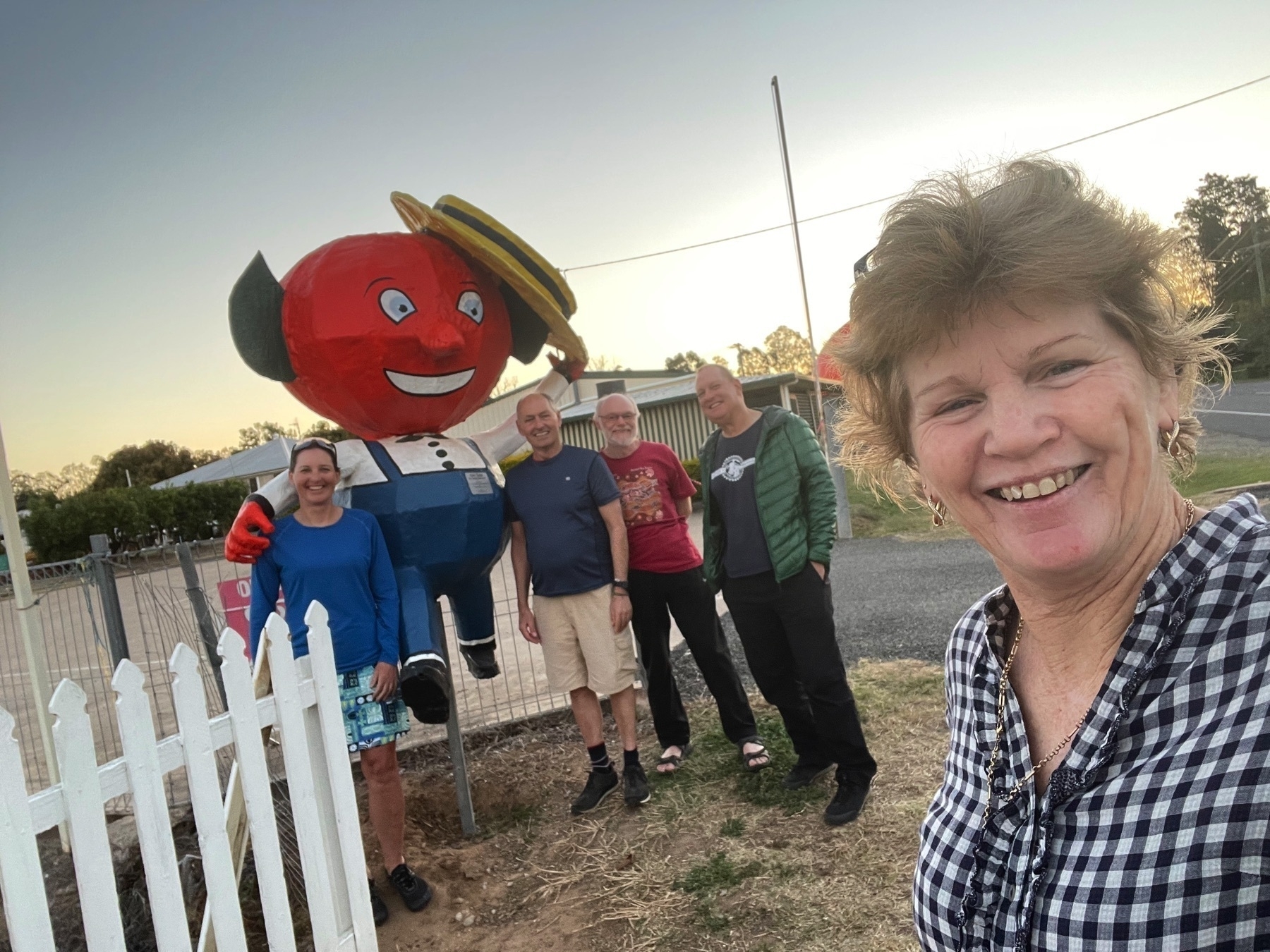 Where to stay in Gayndah
There is another caravan park, and three pubs. None of them have websites, which makes me think they're not that interested in having people stay. Brett from our group stayed at the Riverview Caravan Park and said it was OK.