Part 9 of 10.
Previously Day 7 Eidsvold to Mungungo
Strava links
Distance: 71.8km
Well, we made it. Even though we were reduced in number, even though I think we got slower day by day towards the end, even though we had some long days in the saddle, we made it.
When I first heard from Desley O'Grady that a date had been set for the opening of the tunnels section of the BBIRT, I knew I wanted to attend. And as I reflected on my conversations about how BBIRT might interact with other rail trails, I also knew that somebody would have to be the first to try and piece the trails together.
So this whole ride was about today's event. But it's a great ride, regardless. As a bike-touring route at the right time of year (I would NOT do this ride in summer, for instance), this has very little traffic, no really hard days, and many good towns to stop at. As 700km rides in Australia go, this would be one of the easiest!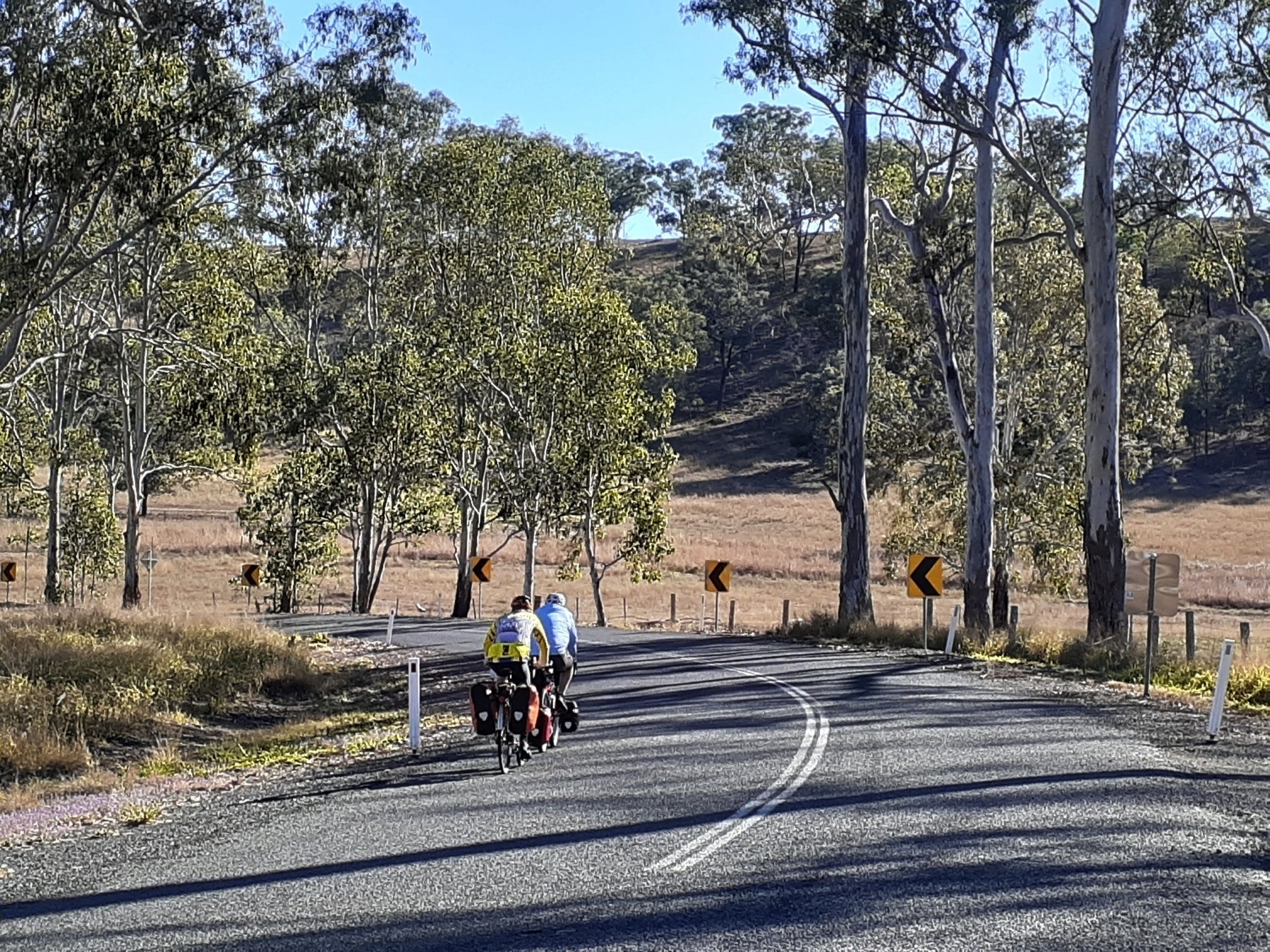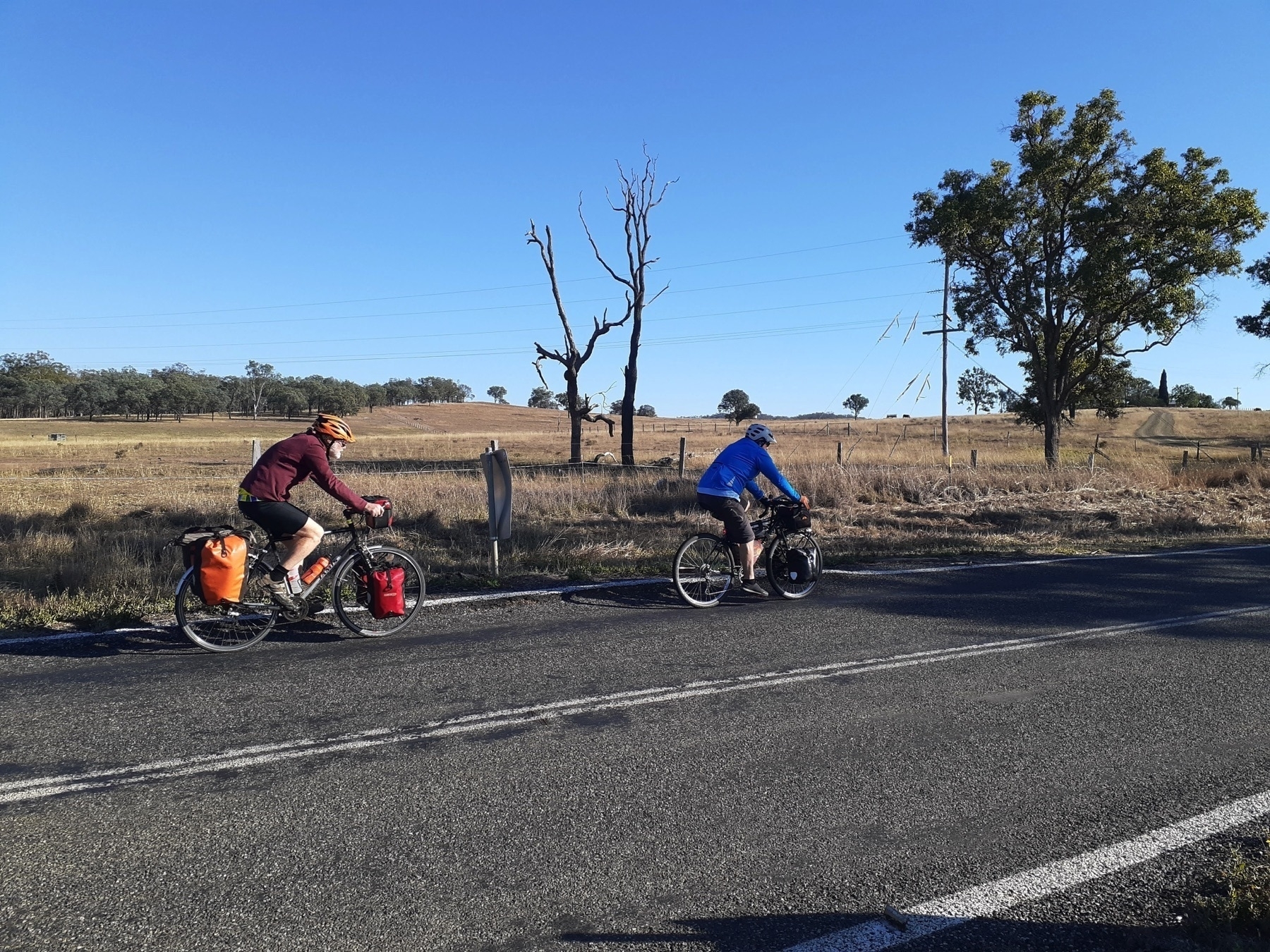 We set out this morning fueled by breakfast supplies we had bought the day before in Monto. The trail opening event would commence around 10.30, and we had about 30km of gradual elevation gain to get there. The Gladstone-Monto Rd is bitumen, but doesn't have a large volume of traffic, and on this particular Saturday morning I suspect at least half the vehicles which passed us were going to the same event as us.
We made it to Kalpowar for a toilet stop and a quick look around, and then onto rough gravel roads for the next 5km to Barrimoon siding.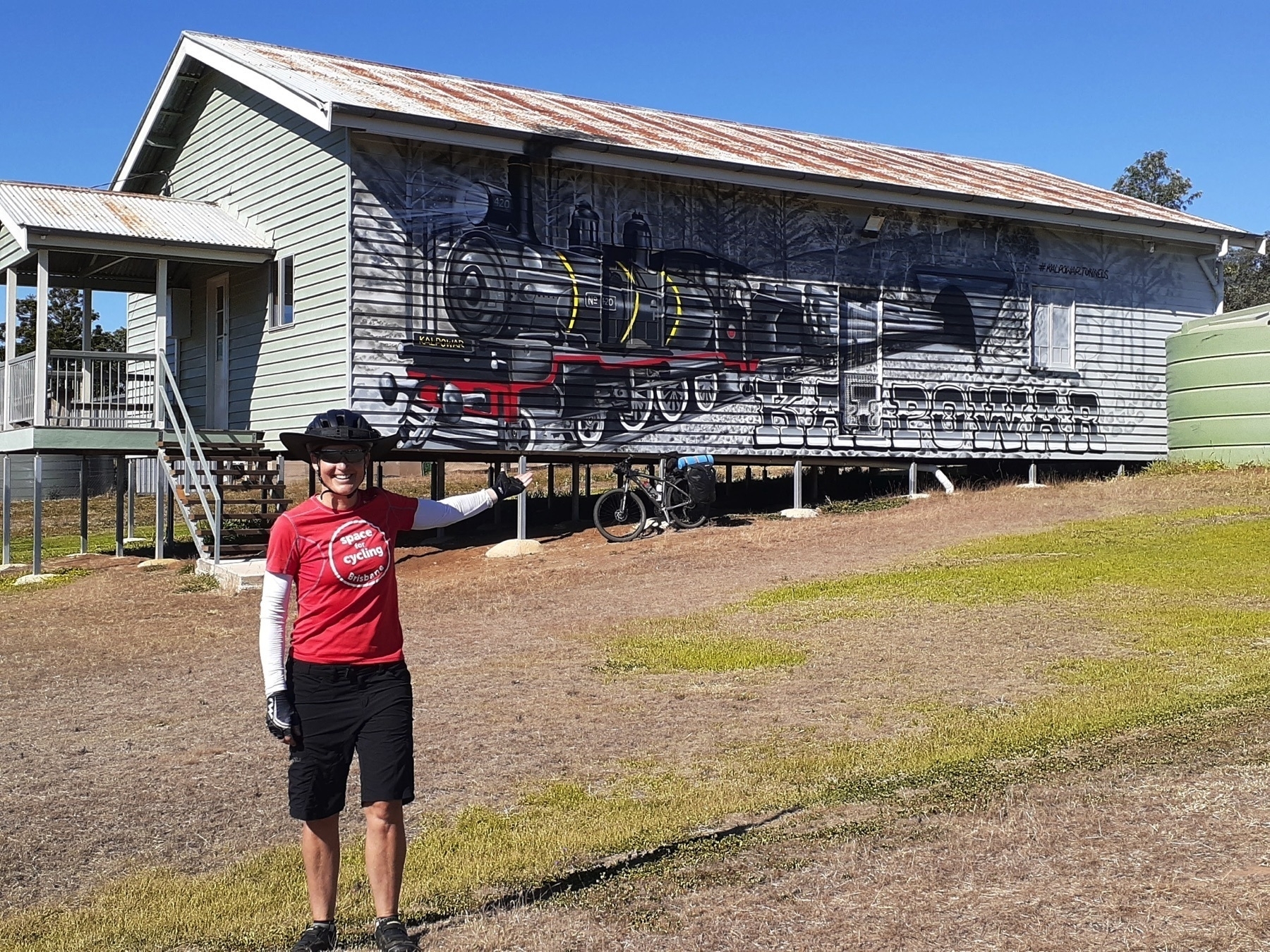 The BBIRT crew have put out signs which direct you to Barrimoon siding, and I'm sure they will still be in place, or replaced by more permanent ones in the future. It will be even better when you can use the rail alignment straight from Kalpowar – the bridge over Cabbage Tree Creek might be an impediment to that, I don't know.
So we joined the crowd of about 400 people who had gathered for the event. We saw plenty of friendly and familiar faces, and mingled and chatted and ate a burger, and slurped a coffee.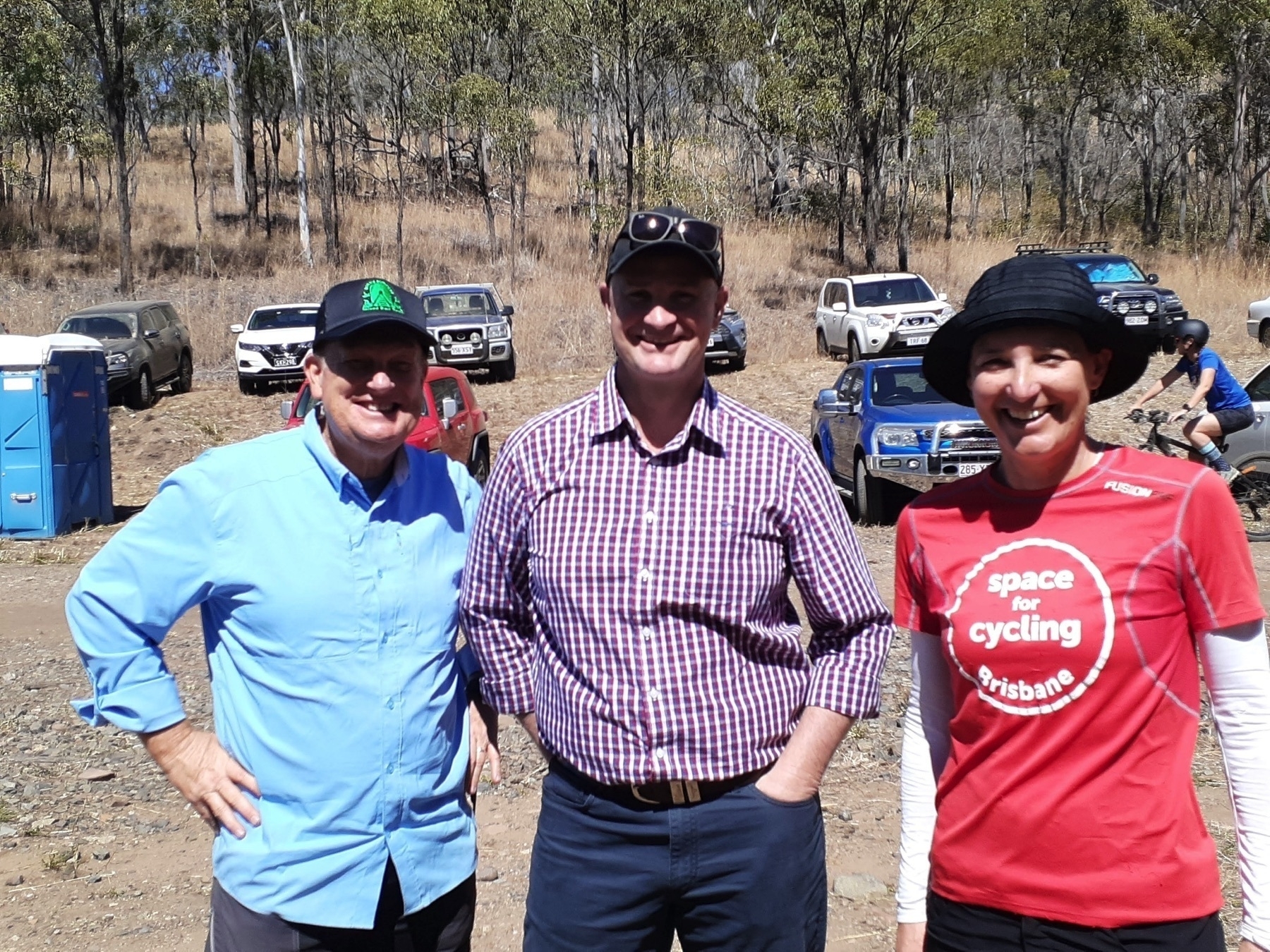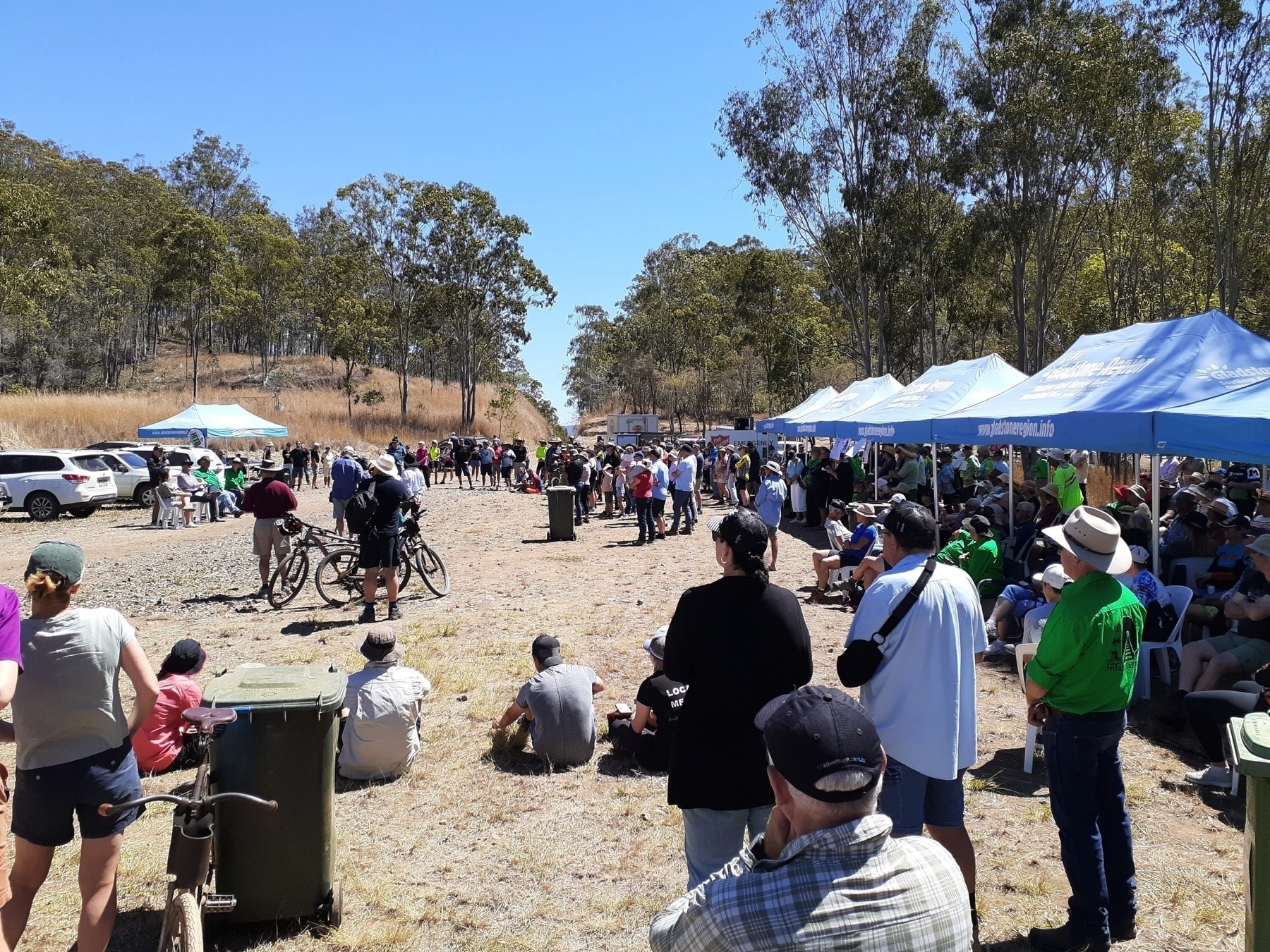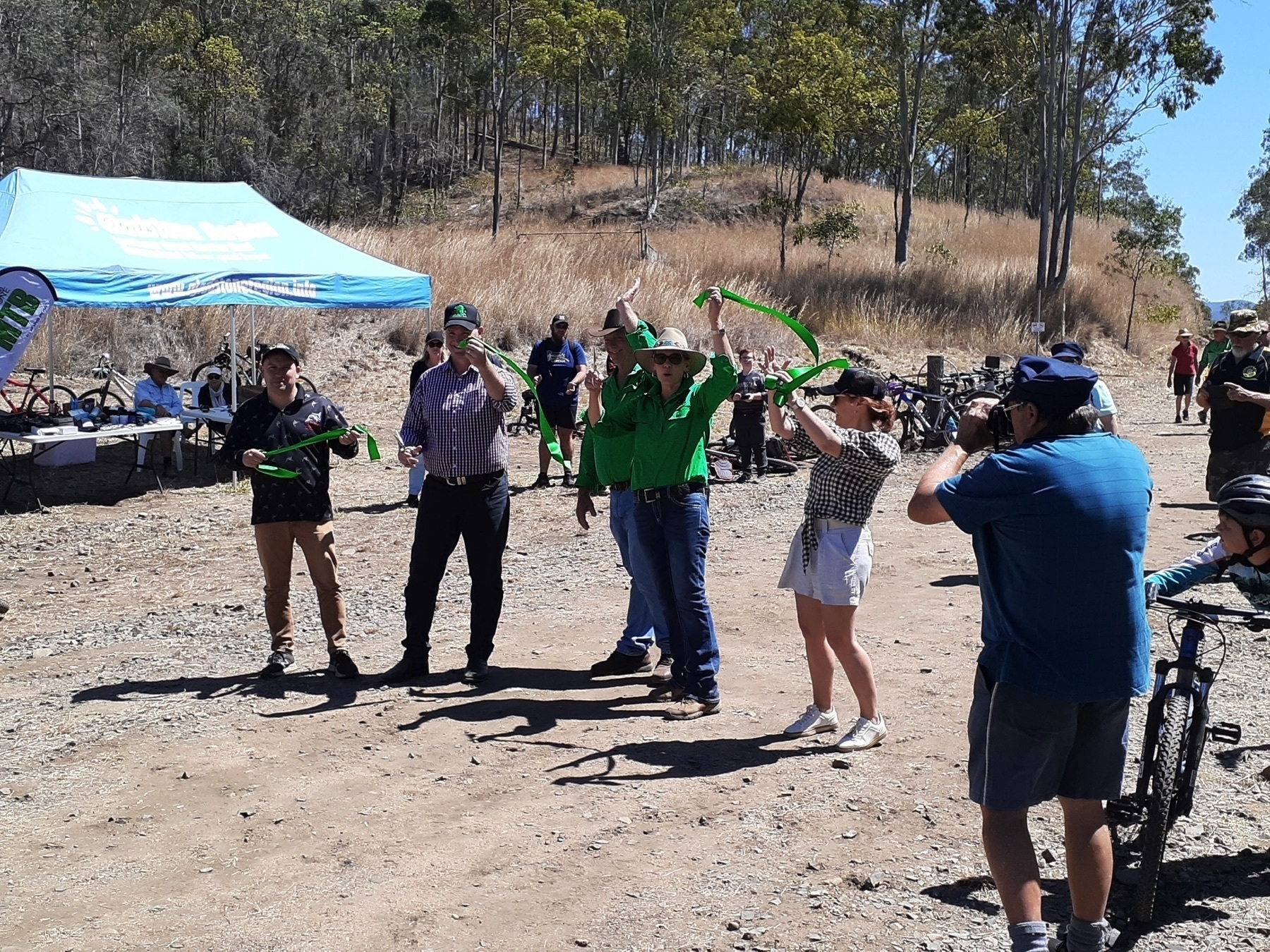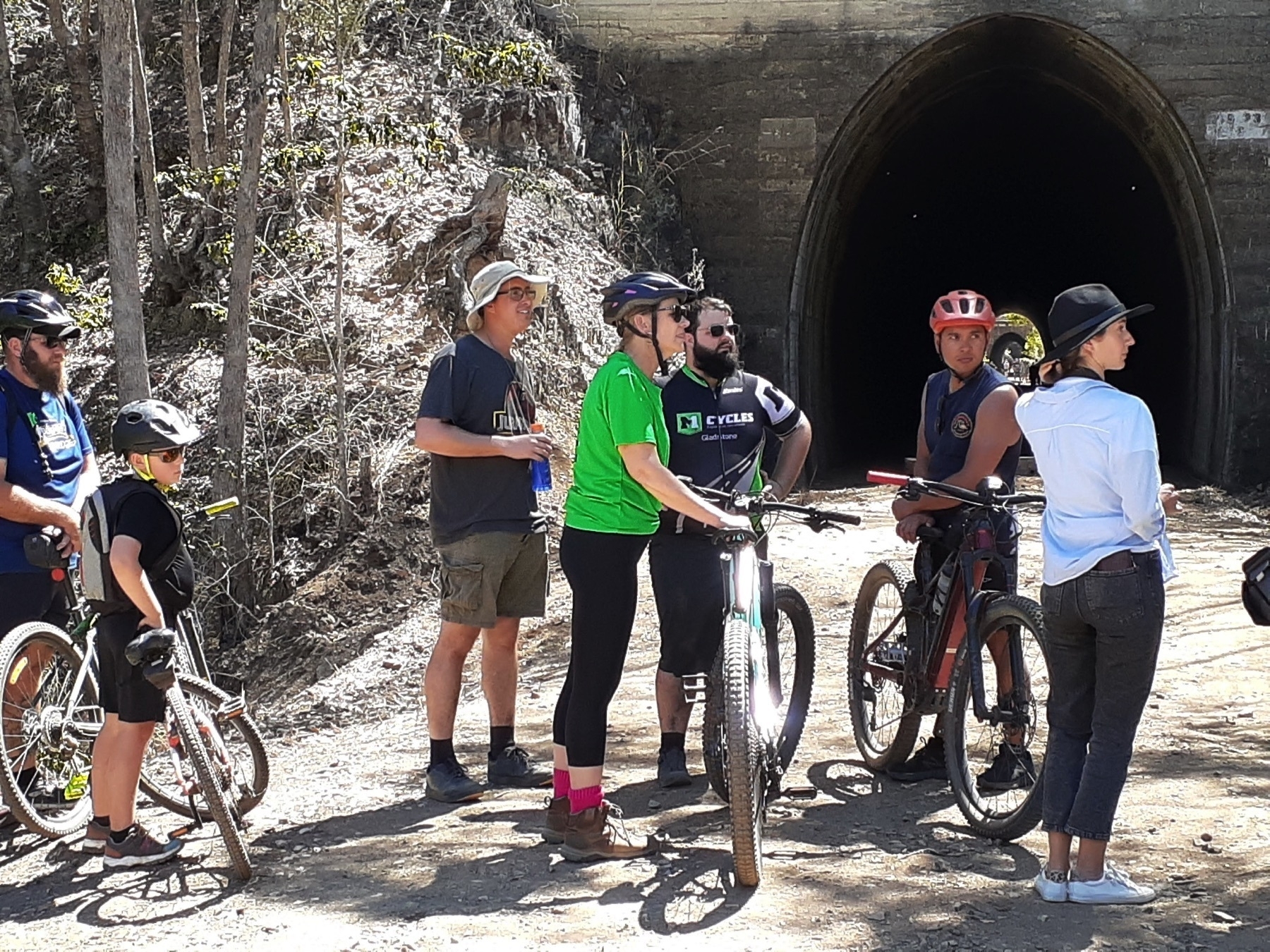 Then the speeches happened, and the trail was opened. The support from local and state government for this project was evident in the fact that the Mayors of North Burnett and Gladstone councils were both there and cheering it on, as was the State Member for Gladstone, who announced some funding to enable the trail head to become wheelchair accessible.
But the driving force behind getting this trail open has been the BBIRT community group. Yes, they are well connected into local government – Desley O'Grady is on Gladstone Council. But very little of the work done before this event was done by Councils or TMR. It was all organised by BBIRT (working with the permission of TMR, of course. BBIRT has a licence allowing them to improve the trail corridor).
After speeches and photos and filming and farewells, we got riding on the newly opened trail around 12.30pm.
From Barrimoon siding down to Golembil is the spectacular initial section of the new trail. And it is worth every last bit of the time, effort or money it takes to get you there.
I have ridden plenty of rail trails in Australia. And this is (potentially) the best one. A little more work on the surface and it will be the best one.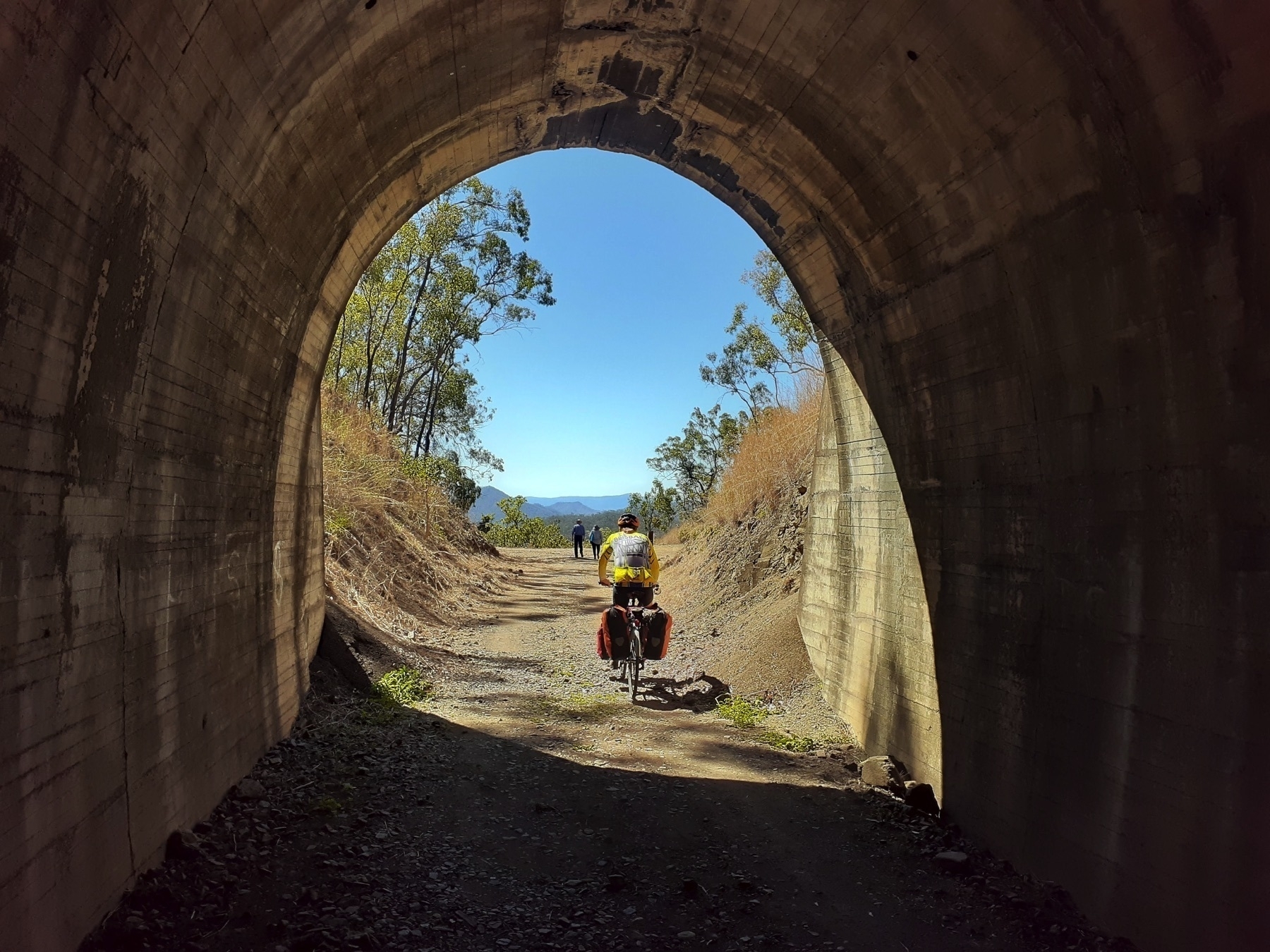 There are six tunnels in the 5km from the top of the Dawes Range at Barrimoon. And the trails rolls through each of the tunnels, and in between there are views of the range all around. Just down the valley from here is a town called Many Peaks. And you can see why, as you cruise on the 11 km downhill to Golembil bridge.
We took quite a few photos on the day, and I took pix last time I was there as well. And all I can say is that it would require a much better photographer than me to do justice to what a beautiful ride this is. You have to go and do it yourself.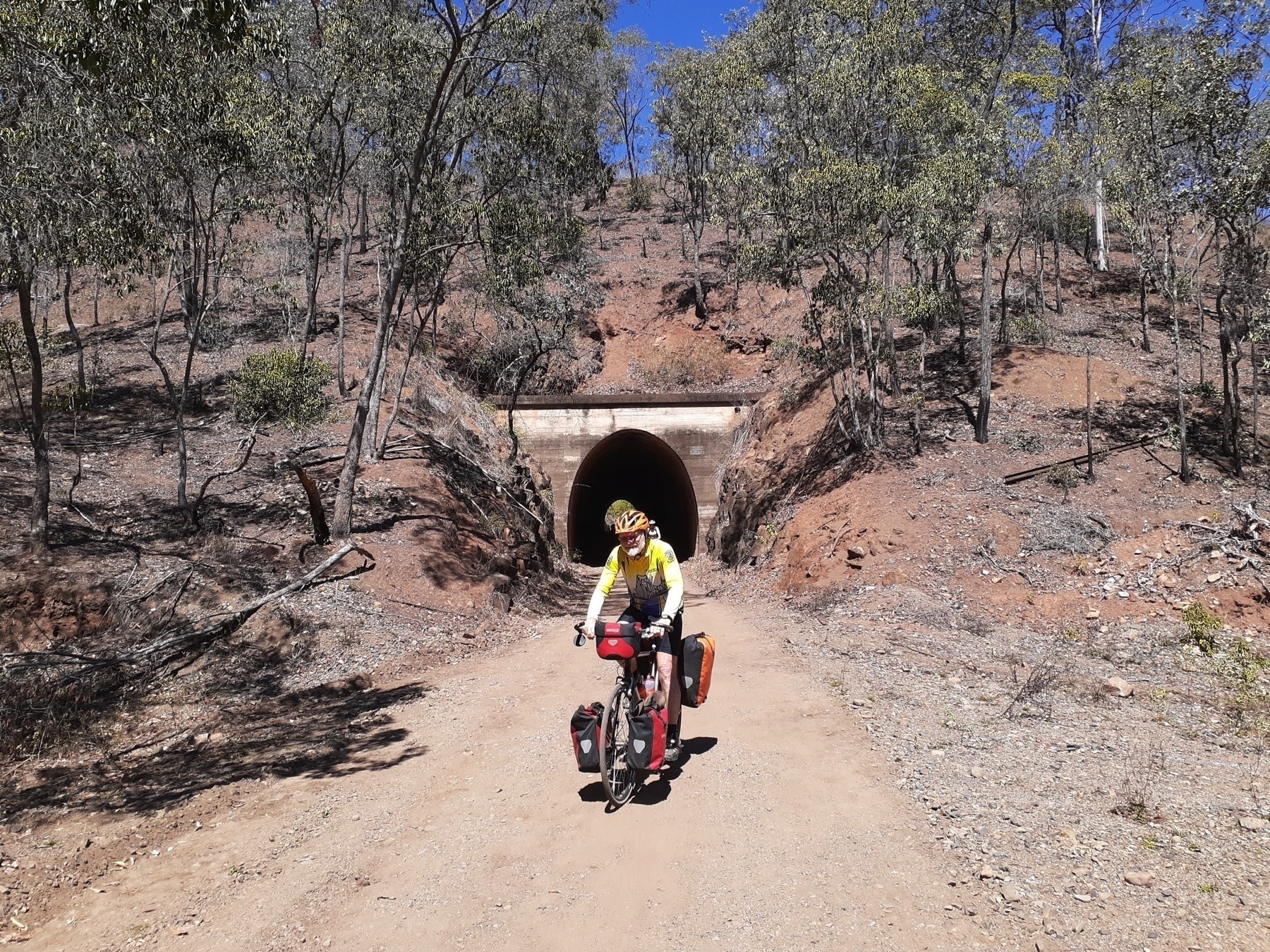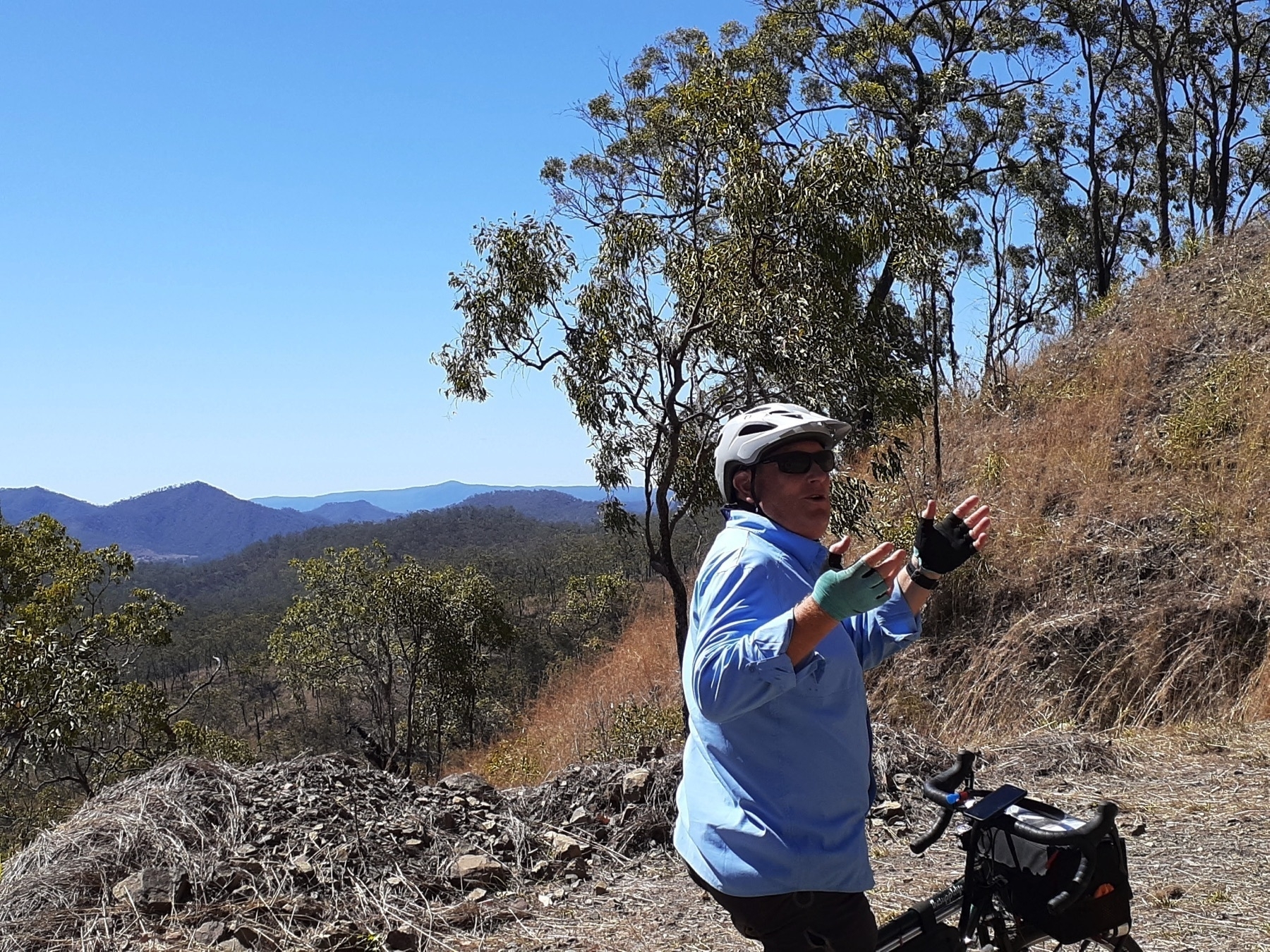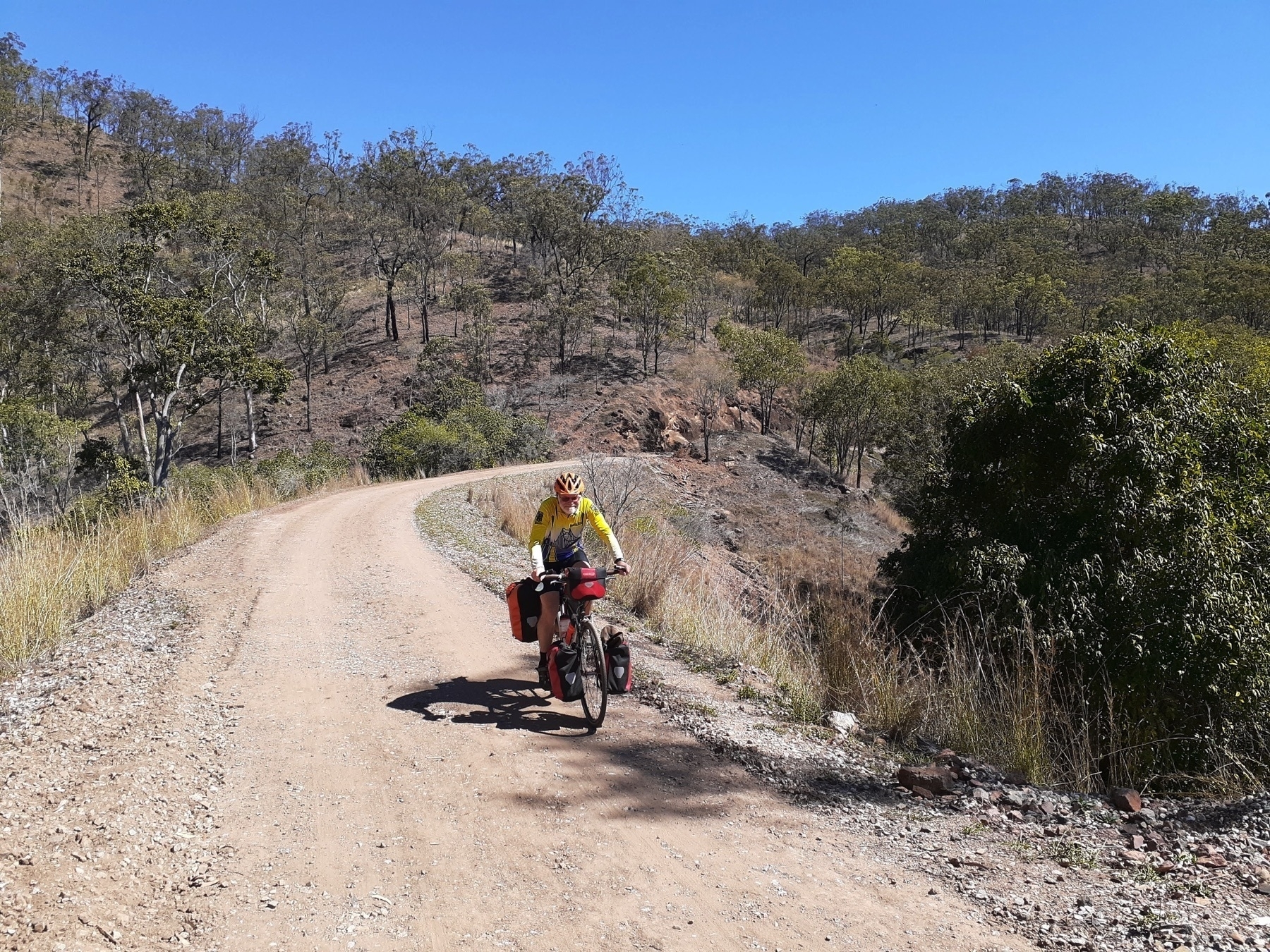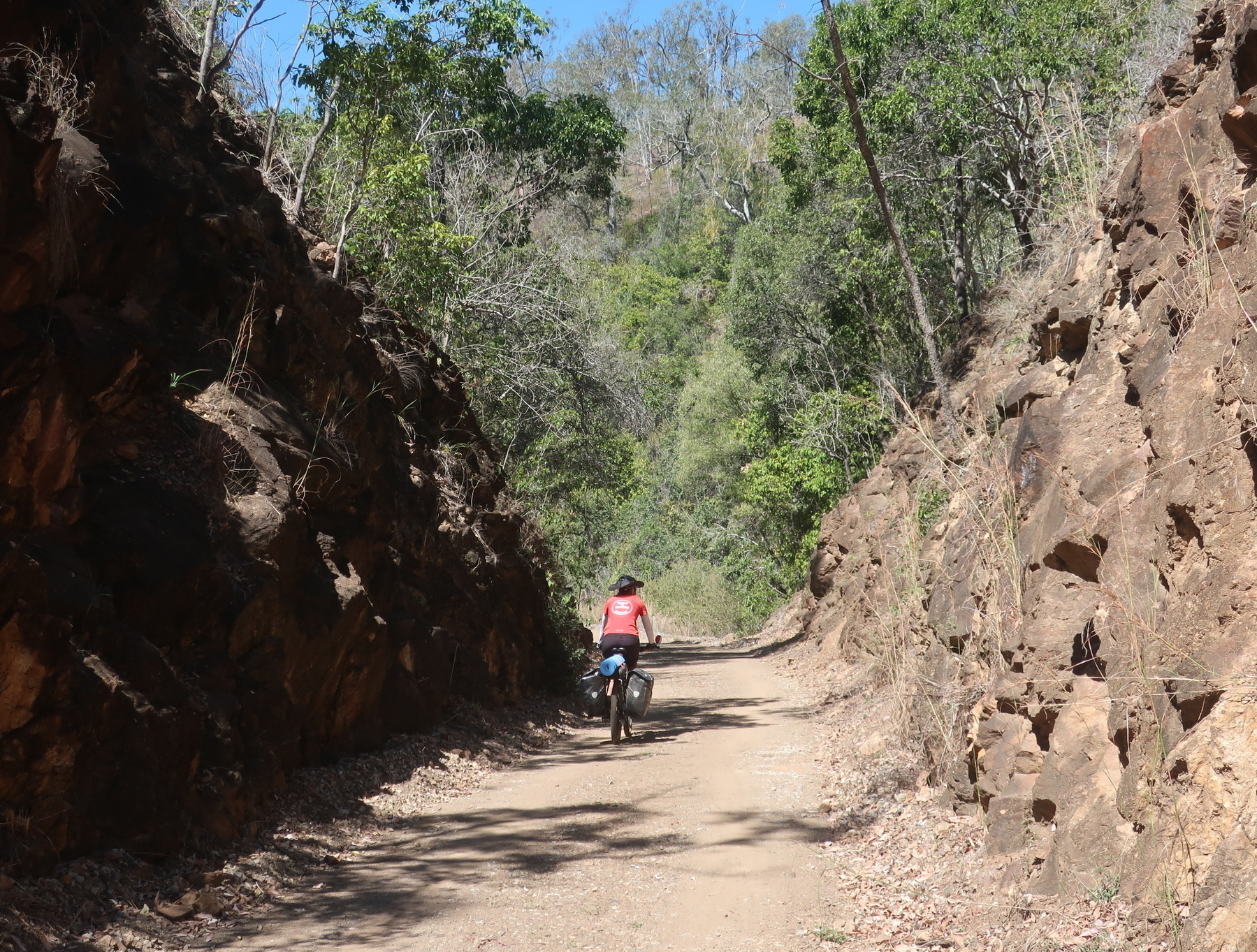 From Golembil, the trail continues along the valley towards Many Peaks, and eventually Builyan, where there are toilets and a shop (Kirsten's Cottage, not always open, check before you ride).
The trail along here has plenty of rough and sandy sections. Wide tyres are a must, and it certainly would have been easier without our touring load.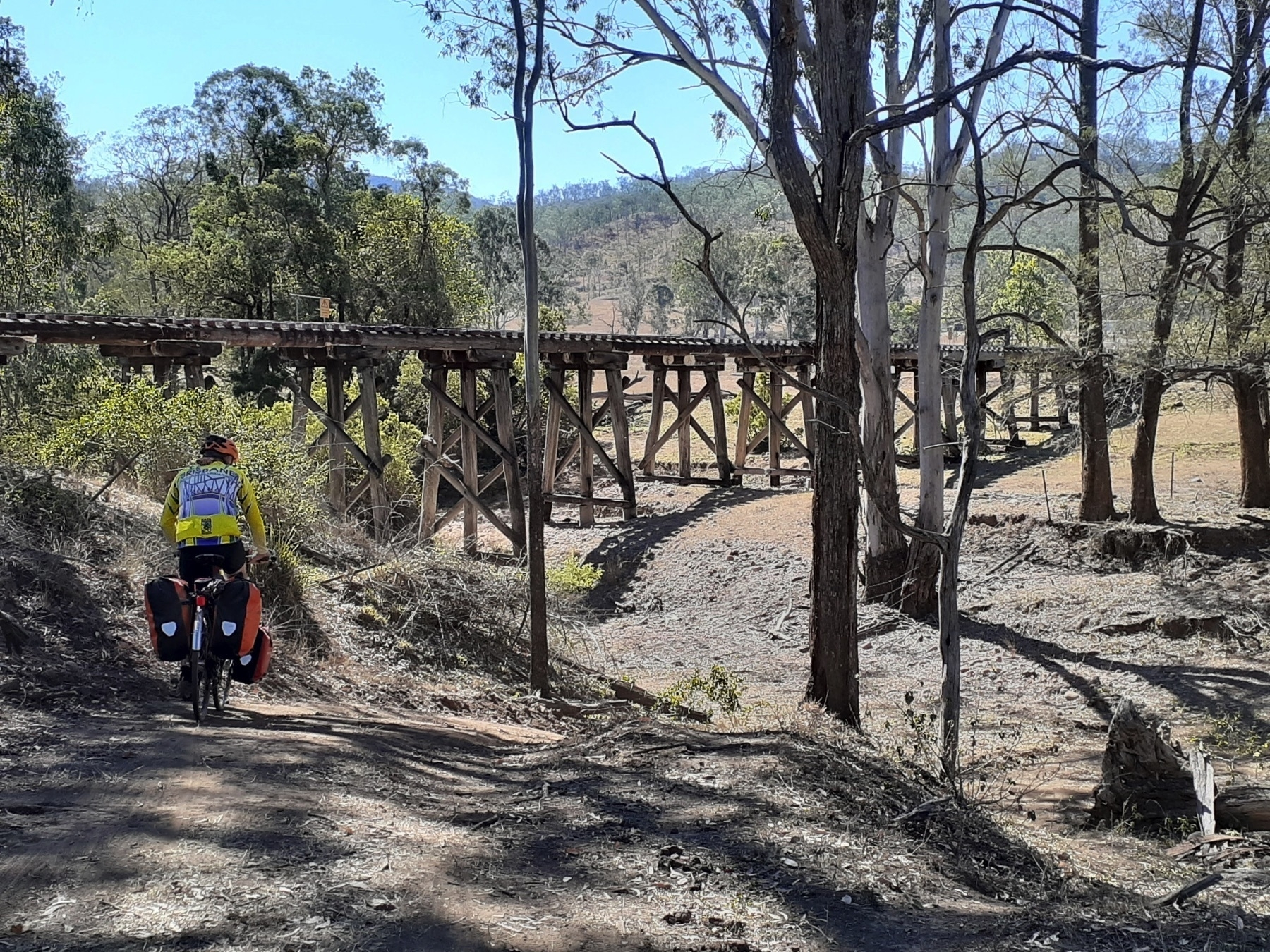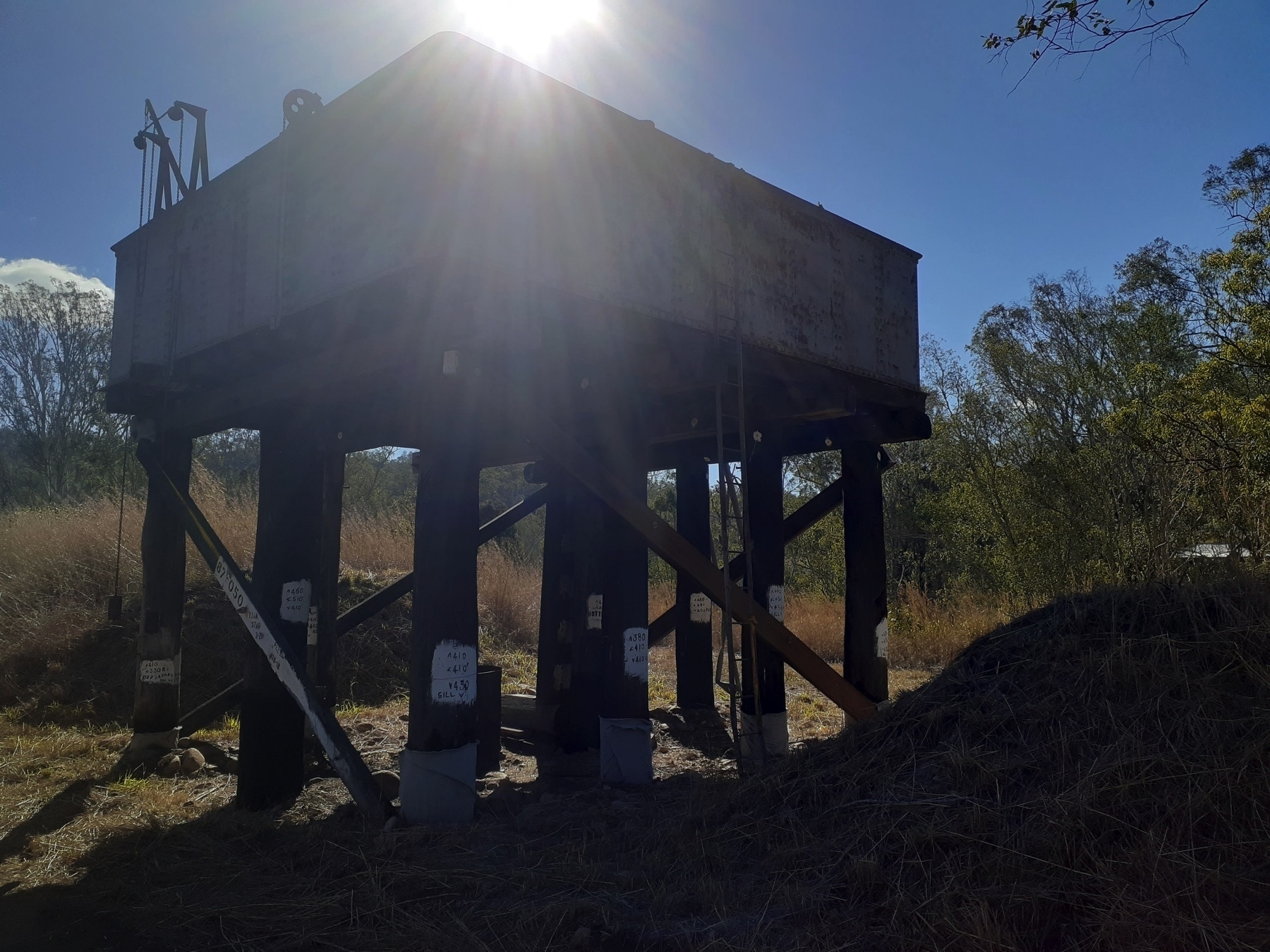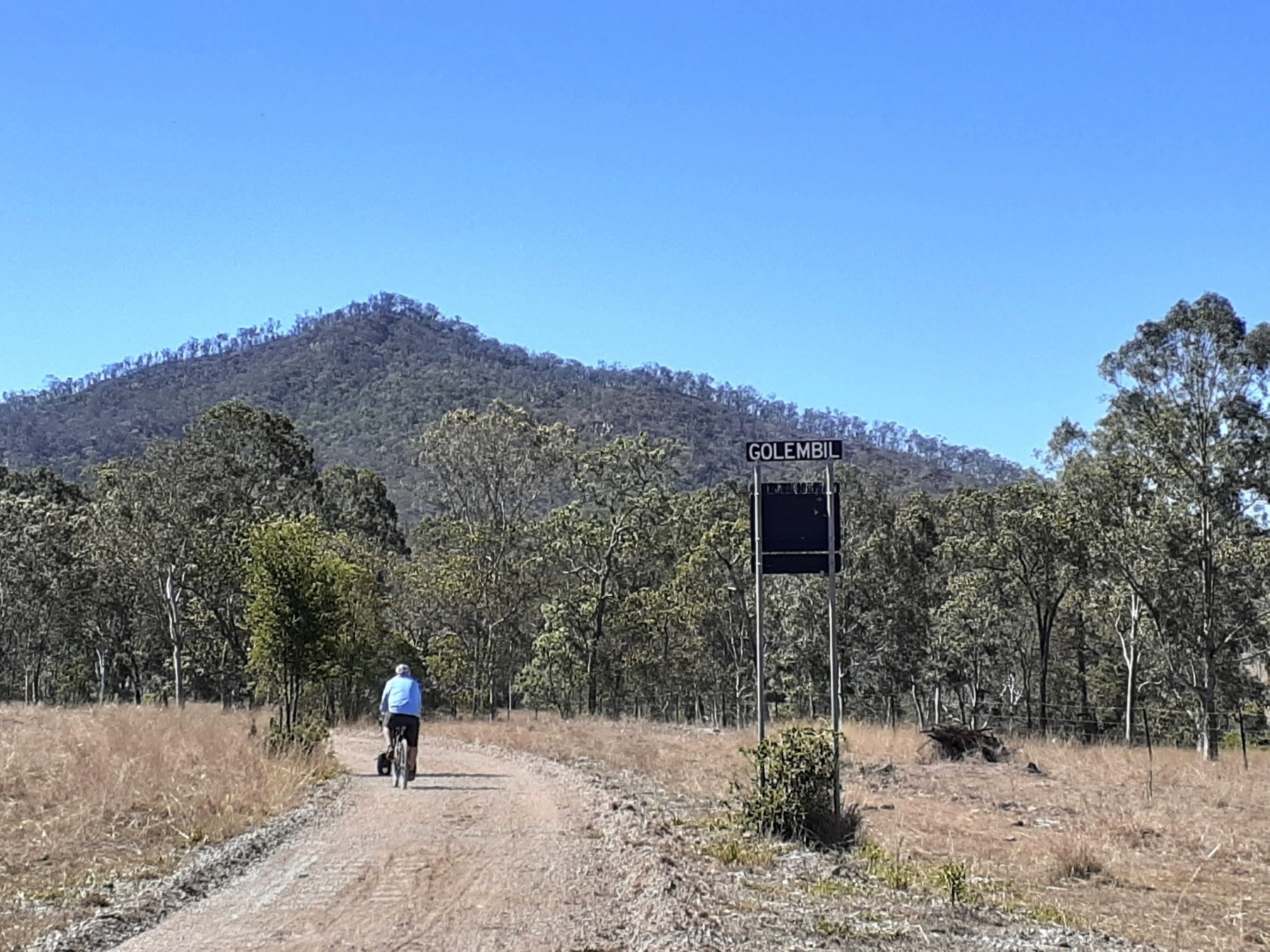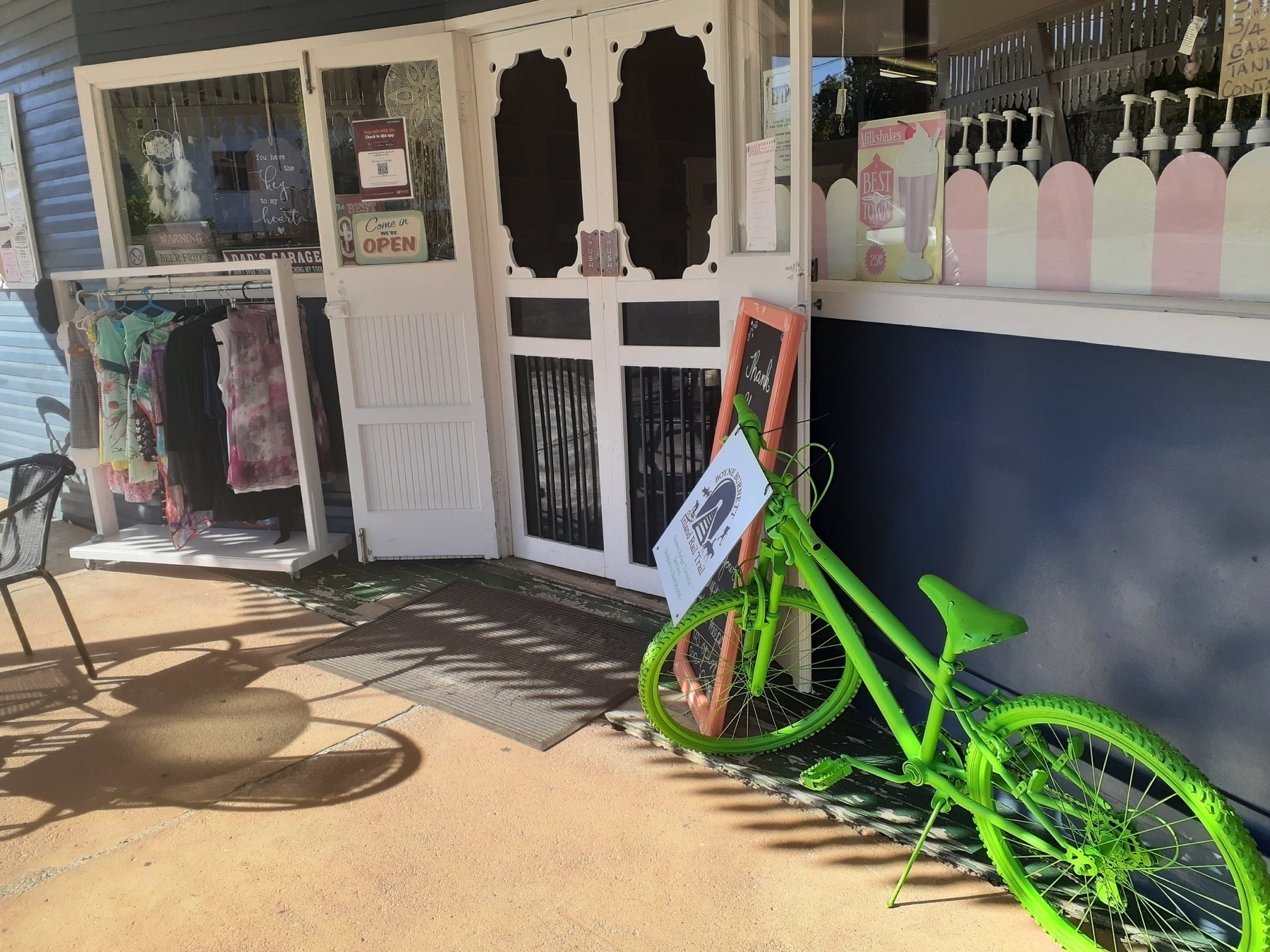 We had a late afternoon tea at Kirsten's Cottage, which was most welcome. Caramel tart! After a week of bike riding you start to think you can eat whatever you like whenever you like. It's not true.
We then had about 18km left along the Boyne Valley to Ubobo. And we asked some local folks at Kirsten's whether there were any hills between Builyan and Ubobo (there were a couple of steep little surprises earlier in the day on the way to Kalpowar).
And the ladies said no, it was pretty flat. Although there would be a hill coming out of the creek crossing just near Larry's place. So that was helpful, thanks.
We rolled into the Boyne Valley Discovery Centre at Ubobo in the late afternoon. It is a great spot, and I won't trouble you with all the details of camping options / cabins / showers / camp kitchen etc and so forth. It's not just the only place to stay at Ubobo, it is also all you would ever need while in Ubobo. Except for Optus mobile phone coverage.
However I will say that if you happen to be there when there is a caravanning/RV club also in attendance, you might get a BBQ dinner (tick!), and breakfast on the next morning (big tick!), and the aural delights of a local country music band playing through the evening (if you really like country music, that might be a tick, but for me I would rather be required to remove a tick from a delicate part of my body than have to listen to what passed for music on this occasion).